10 Tips to Make Your Webinars Better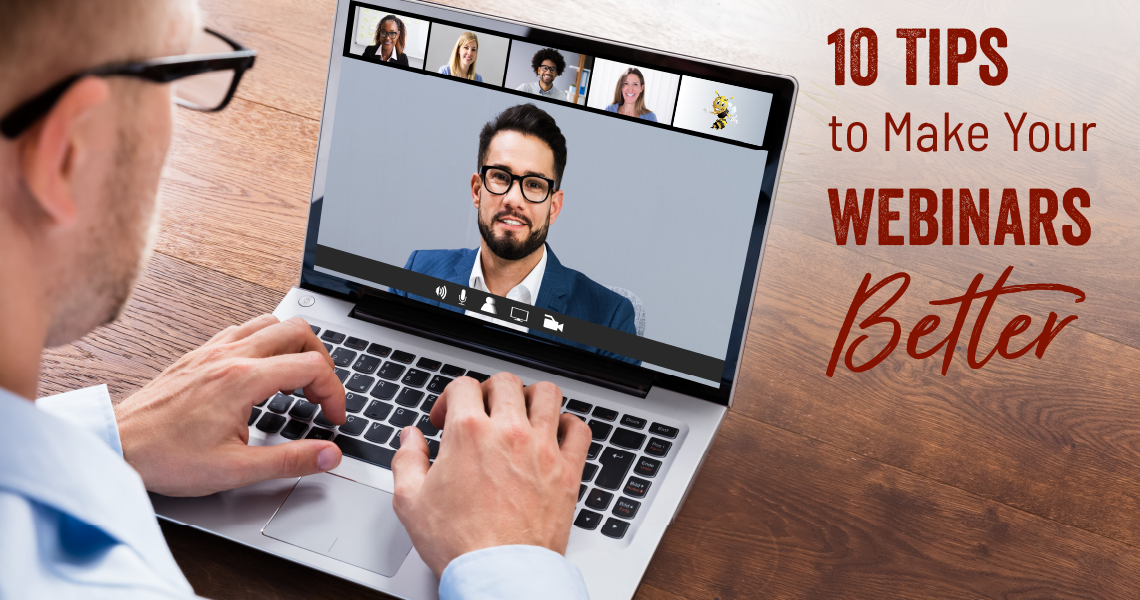 Webinars are an important marketing asset to generate leads and establish you as a subject matter expert. But great webinars don't just happen.
Webinars are an exhausting marketing asset, from planning to execution, and employed as strategic content later on. These 10 tips on best practices will take your webinar from good to great.
Tip 1: Create Buzz
Build a conversation both on your site and on social media leading up to your webinar. Whether your webinar is a one-off event or part of a larger inbound marketing campaign, you need to create buzz to draw in people. Post frequently on social media leading up the webinar and email your current contacts to promote the webinar. If you want to go even further, you can. create a unique but memorable hashtag to organize your posts and to allow attendees to ask questions on social media during the webinar.
Tip 2: Use Interesting Visuals
Nothing is worse than a boring text-laden PowerPoint that a speaker reads from. Engaging content includes a dynamic visual presentation that builds interest and enhances the information you want to share.
Tip 3: Choose the Right Hosting Tools
Deciding where to host your webinar is one of the most important steps when creating a webinar. You may have a hosting tool in place. But if not, check out tools like GoToWebinar, Google Meet or Zoom. These hosting tools are easy to use and access and many have free webinar options.
Tip 4: Assign a Host
If you will have more than one speaker, consider appointing a host to maintain the focus and direction of your message. Your webinar presenter should deliver a concise message, while the host moves through your agenda keeping tangents to a minimum. It's also helpful to have one person in charge of speaking and presenting and another person keeping an eye on the technical side - making sure the video doesn't cut out, fielding questions, etc.
Tip 6: Script and Rehearsal
Plan and script what the host will say, then practice, practice, practice. You don't want the delivery to sound rehearsed, but language fillers will distract from your message and undermine your authority.
Tip 7: Sound Check
Use the rehearsal to check the sound quality. Is there a delay or a poor background sound quality? Poor sound quality is as much a distraction as visual noise or unfocused dialogue. Use high quality sound equipment so your recording sounds professional.
Tip 8: Plan for Time Zones
Though easy to overlook, make sure your planned presentation time makes sense for the time zone of your targeted audience. Are you in the same time zone as your target audience? Of equal importance, clear messaging including the time zone acronym in all marketing for your webinar.
Tip 9: Environment Prep
Eliminate variables that will distract your audience like background noise, window glare, and visual distractions. Set the stage for a focused message by removing excess clutter and décor.
Tip 10: Use Your Webinar as Additional Content
Your webinars are valuable marketing assets. When planning your strategy, determine how you will use what you have created in your inbound marketing campaigns. Don't let that value sit idle! Be sure to record your webinar so you can re-use it later.
Not matter what decisions you make about the logistics of your webinar, make sure that you have addressed all considerations, so you create a truly valuable asset. The best webinars engage and delight your potential customers and are a crucial aspect of effective marketing. Following these tips will help you create the best webinars you can.
* * *
Jump Start Your Business
Many companies are looking for new, creative ways to conduct business – taking their products or services online to facilitate sales, appointment setting and online ordering or quoting. Some have had to shift focus to lines of business that weren't a priority before. And how do you take it to market remotely?
BizzyWeb is offering a special Jump Start Strategy to get you on the road to success! This personalized strategy gives you a roadmap of actions to take to meet your business goals. Not sure how to transition online? Struggling to pivot during COVID-19? The Jump Start Strategy will give you ideas of where to go and how to ramp up your business.
Now is the time to look forward, not back, and figure out how to jump start a process that can help you grow.
That's what BizzyWeb's passion is – helping companies grow!
Need a new digital marketing or web design plan? We are a Minneapolis SEO, digital marketing, social media marketing, web design and HubSpot inbound marketing agency. Stop on by and get started – and while you're here, pick up a free honey stick (yes, we love our bee-related theme).