14 Tools to Help You Transition to a Remote Workforce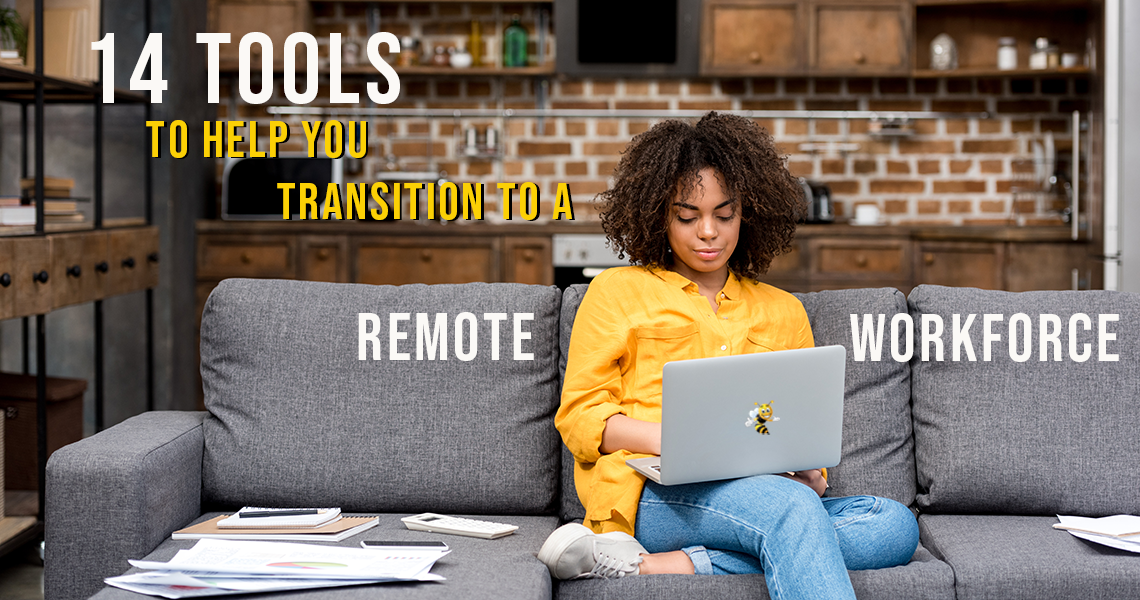 Years ago, working remotely was rare. But now with changing technologies more and more companies are working and collaborating remotely. And when a pandemic or other disaster strikes, many companies are forced to have their teams stay home.
BizzyWeb has had a virtual workforce for over 10 years, and in that time we've tested just about every virtual tool on the web. We've rounded up 14 of our favorite tools that can help you transition to a remote workforce.
Web Conferencing Tools
Google Hangouts Meet
Google Hangouts Meet offers free video meetings for businesses. One distinct advantage of Hangouts Meet over other services is that it's free if you already use G Suite and Gmail.
Zoom
Zoom is another great tool for video conferencing that we frequently use here at BizzyWeb. Zoom is also a useful tool if your company needs to host or record webinars or demo products and services with clients.
---
Instant Messaging Tools
Slack
Slack is a sleek instant messaging tool that makes it easy to stay in touch with your employees. Slack lets you create multiple channels to parse out communications and keep conversations organized. Slack allows for company-wide, small group and one-on-one conversations.
Google Hangouts Chat
Google Hangouts Chat is another nifty tool that comes free with G Suite. With Hangouts Chat, you can send instant messages directly to other team members and small groups.
---
Customer Relationship Management (CRM) and Sales Tools
HubSpot
HubSpot is a full service marketing, sales and service software that lets you streamline your business. If you're considering a CRM, check out our blog: Why Does a Business Need a CRM System?
Proposify
Proposify is a proposal software you can use to create, send, track and sign proposals online. This allows you to keep business flowing, even when working remotely. Our favorite feature of Proposify is the ability to digitally "sign" documents, which speeds up approval time and leaves a record of approvals.
Zoho CRM
Zoho CRM is another powerful sales tool that you can use online. Zoho includes sales force automation and process management tools.
---
Marketing Tools
HubSpot Marketing
HubSpot also offers marketing tools alongside a CRM system, including social media scheduling, online advertising, email marketing and more. For an in-depth breakdown of marketing tools within HubSpot check out our blog: 5 Ways to Streamline Your Marketing with HubSpot.
Constant Contact
Constant Contact is an email marketing tool that allows you to create powerful email marketing campaigns. It's a useful tool for keeping your clients up-to-date on your business hours, news and other updates.
SEMRush
SEMRush is a robust marketing toolkit that includes SEO, social media, content marketing and more. SEMRush makes it easier to send out bulk messages on social media.
SurveyMonkey
SurveyMonkey allows you to solicit feedback from your customer and employees. This marketing tool offers online survey creation and management.
Project Management Tools
Hive
Hive is a powerful project and process management software that lets you coordinate timesheets and tasks. Hive is simple to use for small and large teams, and is especially helpful in Agile project management teams.
Zoho Projects
Zoho Projects is a cloud-based project management tool that is relatively inexpensive, very adaptable and works well with other Zoho tools (like CRM, support, HR tools, etc.).
---
Document Storage Tools
Dropbox
Dropbox allows you to organize and share content remotely, via the Cloud. Via Dropbox, you can upload and share documents in real time, save storage space when sending large files over email, and even comment on files when collaborating with others.
Google's G Suite
Google's G Suite is a sweeping suite of software that includes Gmail, Docs, Drive, Calendar, Sheets, Meet and more. Docs and Drive allow you to store and collaborate on documents in real time - you can even collaborate with others and see each other editing a document at the same time.
Whether you're transitioning to a remote workforce or just need to go online temporarily, these tools will help you stay productive and organized.
* * *
Free 3/19/20 Webinar: Keep Your Business Running While Working Virtually
It's a scary time - schools and events are shutting down in response to the Coronavirus/COVID-19 pandemic. Many businesses are asking their employees to work virtually so they can self-quarantine and control the spread of the virus. If businesses and employees aren't used to working this way, how do you get started?
BizzyWeb has had a virtual workforce for more than 10 years. We've become well-versed in how to effectively run a business and stay efficient with the tools we use, and we'd be happy to share that knowledge with you! And - we're showing you sooner rather than later just so that you don't lose stride in keeping up with your business.
Not every business may take their employees virtual, but if there's a chance, there are many tools you can try. Join us for this webinar on Thursday, March 19, 2020 where you'll learn about the tools we use to collaborate with virtual team members and clients every day.
Need a new digital marketing or web design plan? We are a Minneapolis SEO, digital marketing, social media marketing, web design and HubSpot inbound marketing agency. Stop on by and get started – and let's generate some buzz together!