2019 Trends in Digital Marketing (And What This Means for 2020)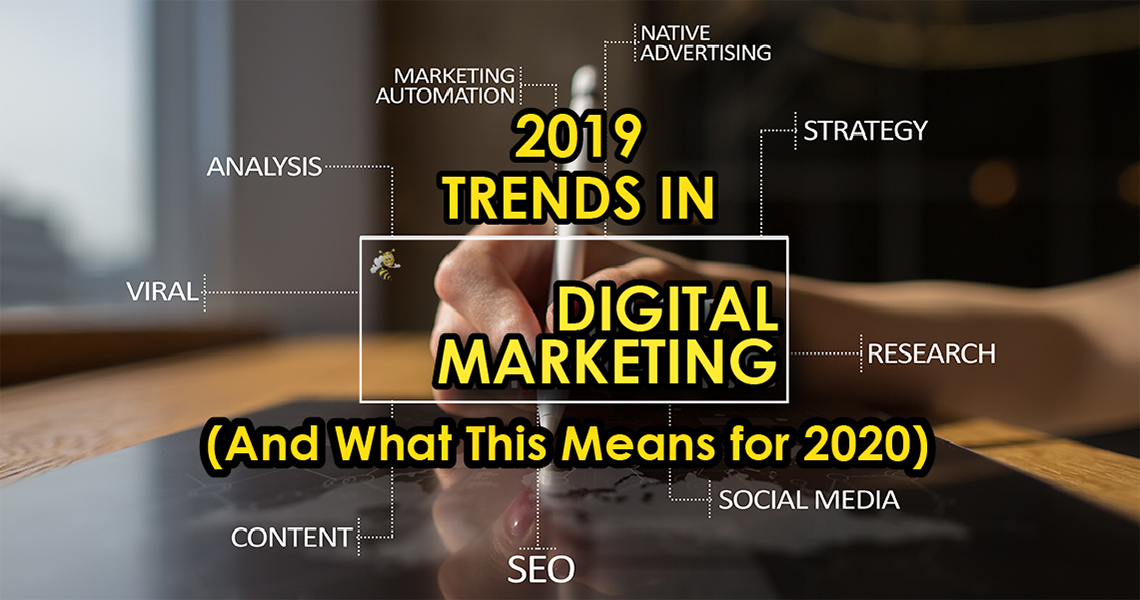 As 2019 winds down, it's time to look back at the biggest digital marketing trends of the year. All of these trends will continue to play a part in 2020 and beyond.
Topics, Not Keywords
Google continues to become more and more sophisticated. The most recent update, Bert, slid in at the end of 2019 and will shape the future of content on the web. Instead of relying on keywords, SEO became more and more about topics and search intent. Other search engines are likely to follow in Google's footsteps. What does this mean? Simply put: write content for people, not bots. Google's goal is to be the best at delivering search results for peoples' searches, no matter what they type (or speak) into the search bar.
Artificial Intelligence
Artificial Intelligence (AI) conjures up images of shiny, superhuman robots. While we're not quite there just yet, artificial intelligence is growing and is already being used in the digital marketing sphere. AI is any computer system that can perform the same mental task as a human. Already, AI is being used in the following ways:
To analyze consumer behavior
Customer service chatbots
Content creation
Email personalization
E-Commerce transactions
Programmatic advertising


Programmatic Advertising
Managing ads is one of the biggest time-sucks for marketers. Programmatic advertising uses AI to bid, buy and place online ads.
Irina Kovalenko of SmartyAds says:
"Most search-driven manual advertising campaigns (even those performed with professional tools) take into account three or four targets: the keyword, time of day, and location. Such tools like programmatic demand-side platforms can use hundreds of targeting signals to individualize the advertisement and even target according to lifestyle or behavior habits when integrated with customer data platforms."
Many large organizations already use programmatic advertising. This has begun to trickle down into medium and small businesses. In 2020, we'll see even more businesses relying on programmatic advertising.
Video Marketing
Video has shifted away from traditional television viewing to online streaming. Platforms like YouTube, Facebook Live, Netflix, et. all means that consumers can now watch video wherever they are, using their phones. 82% of internet traffic will be through video by 2021. Marketers can tap into the power of video in various ways:
How to videos
Product demonstrations
Interviews
Company culture videos
Event videos
Voice Search
It's projected that 50% of all searches will be via voice by 2020. No doubt that will increase as the holidays approach and many voice assistants will be given as gifts. Now's the time to optimize your website for voice search if you haven't already.
Inbound Marketing
Inbound marketing is nothing new in the digital world, but it continued to grow in 2019 and will continue to grow in 2020. Inbound marketing is customer-oriented and customer-driven. Simply put, inbound marketing starts with valuable content that your target audience wants, instead of just advertising your services. Online users now expect content to be geared toward them, and inbound marketing gives them the power to engage.
If you missed any of these trends in 2019, it's not too late! As the web and digital marketing continue to evolve, these trends will stretch beyond 2019 into 2020, and likely will continue for years.
* * *
How's Your Digital Marketing Strategy For 2020?

In this guide, we're going to walk you through the easy-access ways to get started – from making the most of search engines to buying your first online ads. All the channels will be familiar to you – Facebook, Twitter, Google, email and your own website – but we'll give you the steps you need to feel confident you're testing and investing in the way that's right for you and the growth of your business.
Download the guide and you'll also get a BONUS offer.
20% OFF YOUR 2020 MARKETING STRATEGY!
---
BizzyWeb is a Minneapolis-based digital marketing and web design agency that helps companies get the high-quality leads they need to grow and thrive. Our tactics include inbound marketing, SEO, advertising, web design, content creation and sales automation. We are an accredited HubSpot Platinum Partner and we offer full-service HubSpot onboarding, enablement and strategy for new and current users.