5 Places to Advertise Online (That Aren't Facebook, Google or Amazon)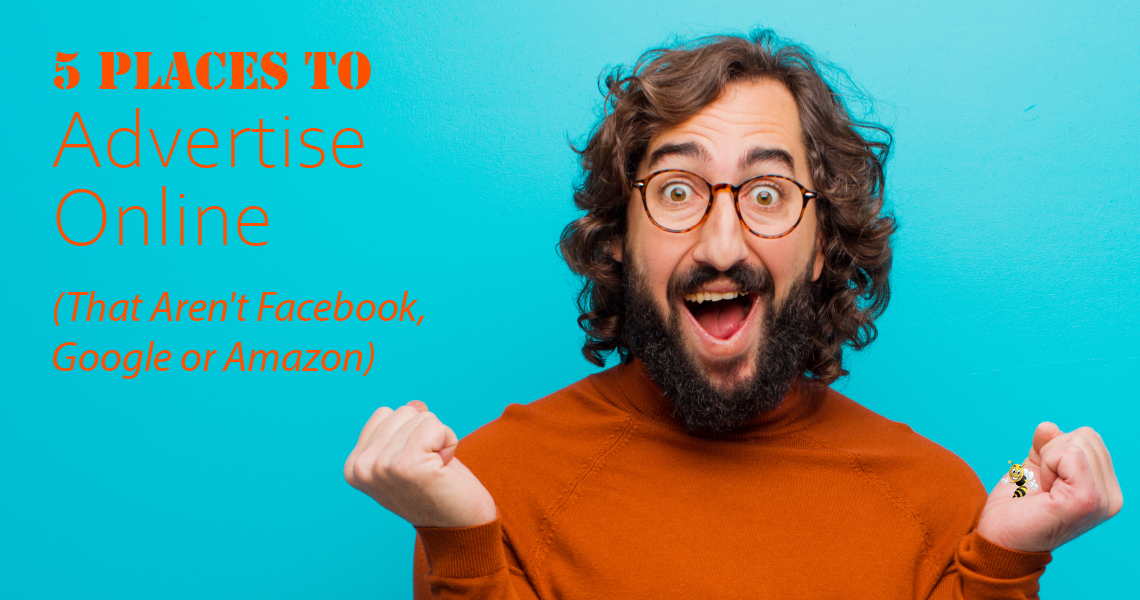 While PPC marketing budgets are largely spent on Google, Facebook, and Amazon, there are effective alternatives for ad spending. Diverting a portion of your online marketing budget to opportunities outside of the big three can expand your reach and build awareness of your capabilities. Here are five options for your ad buy to stretch your budget and reach new potential customers.
According to Lawless Research, 68% of US digital ad spending in 2019 is spent on Google, Facebook, and Amazon ads. And this is projected to grow into 2020 and beyond. These are very effective platforms for advertising because of the massive user base and frequency of use. However, there is stiff competition in many markets, and there is no guarantee you will be able to cut through the noise thoughtfully. How can you compete with large organizations with massive inbound marketing budgets?
1. Microsoft Advertising
Formerly Bing ads, Microsoft Advertising offers similar functionality to Google Ads but with a somewhat different audience. With a reported 5.5 Billion search depth monthly and lower cost-per-click (CPC), Microsoft ads might be a good fit for your business.
2. LinkedIn Ads
LinkedIn is a great online ad platform, specifically for b2b messaging. Because this platform is focused on networking and career building, marketing here is valuable if your customer is commercial, in a specified industry, or business to business.
3. Twitter Ads
Like Facebook, Twitter offers very similar goal setting and tracking structure. Promoted tweets are targeted to given user demographics based on individual use. Prior user behavior is very effective in marketing to a very specific audience. However, the big difference on Twitter is the brevity required to get any traction. On Twitter the message has to be clever and pithy, or risk getting lost. This can be highly-effective if your audience spends most of their time on Twitter.
4. Reddit Ads
Reddit is a unique platform in that it has remained largely a community forum of discussions, or Subreddits. Historically, users have rejected corporate advertising on this platform, but it can be an excellent avenue to contribute to technical conversations or topics of great specificity to your industry. There are paid ad buys available here, and a well-crafted message will build brand awareness. Because of the the niche nature of Subreddits, if you have a very niche audience it can be lucrative platform for reaching your ideal customer.
5. Pinterest Ads
Pinterest Ads – If your visual marketing is where you shine, running ads on Pinterest might be a smart move. Pinterest is a very visual platform, like Instagram, for sharing ideas and inspiration. If you have the ability to create and share visual content, or short how-to videos, you may be able to grow your following here.
Whatever platform you choose, be sure it is where your customer base is looking. Dig into SEO and keyword research to determine if the search volume is great enough to be worth your time and ad spend. Then, analyze the audience for each option and make sure it makes sense for your business. For example, Pinterest is best suited to visual content, ideas and personal improvement, while LinkedIn is geared more toward b2b, and professional marketing.
Although these options are outside of the online advertising norm, you may find more success when you break out of Facebook, Google or Amazon.
* * *
Jump Start Your Business
Many companies are looking for new, creative ways to conduct business – taking their products or services online to facilitate sales, appointment setting and online ordering or quoting. Some have had to shift focus to lines of business that weren't a priority before. And how do you take it to market remotely?
BizzyWeb is offering a special Jump Start Strategy to get you on the road to success! This personalized strategy gives you a roadmap of actions to take to meet your business goals. Not sure how to transition online? Struggling to pivot during COVID-19? The Jump Start Strategy will give you ideas of where to go and how to ramp up your business.
Now is the time to look forward, not back, and figure out how to jump start a process that can help you grow.
That's what BizzyWeb's passion is – helping companies grow!
BizzyWeb is a Minneapolis-based digital marketing and web design agency that helps companies get the high-quality leads they need to grow and thrive. Our tactics include inbound marketing, SEO, advertising, web design, content creation and sales automation. We are an accredited HubSpot Platinum Partner and we offer full-service HubSpot onboarding, enablement and strategy for new and current users.