Busting Video Marketing Myths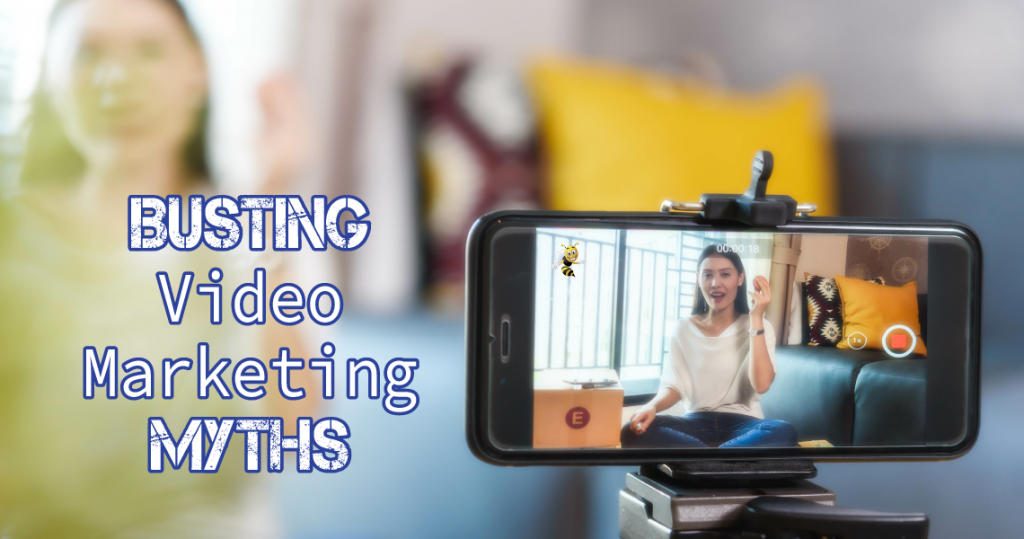 Video has exploded in popularity in recent years, but some businesses still avoid video because of outdated myths. Some think video is just too expensive while others think it doesn't offer much value. The truth is that 88% of video marketers reported that video gives them a positive ROI. If you haven't seriously considered video marketing, now is the time to start. Today, we'll be busting a few common video marketing myths.
Myth 1: Video is Too Expensive
A common reason why businesses avoid video marketing is the idea that it needs to be polished and expensive. With online video, authenticity is much more important than shiny production. Many times you don't need to even invest in new technology - a smartphone is up to the task of creating videos for social media and your website. You can always build on your strategy in the future if you want to scale up your video production. For now, just focus on producing content.
Myth 2: You Need to Hire Professionals
Alongside with the cost complaint, there's a myth that video has to be outsourced to a professional company. This may be true for television ads, but when it comes to online video you don't need to go all out. Depending on the video, outsourcing can have a negative effect - people want to see you and your employees, not actors. Creating video yourself is more authentic and more cost-effective.
Myth 3: Video Isn't Relevant in Your Industry
Some businesses balk at the entire concept of doing video - if none of your competitors are doing it, why should you? But this is exactly why you should be doing video. 54% of people want to see more video content from marketers and 73% of consumers worldwide prefer seeing videos on social media that are "entertaining." Even if no one is doing video now, it's likely that will change in the future. If you're in this position, you have an incredible opportunity to create video content and a name for yourself before anyone else even starts.
Myth 4: A Video Has to Go Viral to Have Value
Another reason why some businesses don't bother with video is they look at viral videos as the only marker of success. It's highly unlikely that your marketing video is going to become an overnight sensation, but that doesn't mean it isn't worth trying. For marketing, getting a ton of videos is less important than being seen by the right people. If your ideal customers are watching your video (even if it's less than 100 of them!) then it's worth the effort to produce it and reach them.
Myth 5: You Can't Track ROI
It's true that video, like a lot of other social media content, is hard to attach a direct ROI to. Unlike an online ad or product, you won't necessarily see dollars attached to a video. However, that doesn't mean that there's no tracking on video. If you upload to YouTube or your website, you can still track views, attention spans and click-throughs - these will help you identify what types of content perform well and what video length to aim for. However, you can also track video using tools like HubSpot to gate your content. There are also platforms like like TwentyThree and Wistia that break video down into more detailed metrics so you can tie a lead directly to a video watch. You shouldn't ignore video just because it may be harder to track conversions - like all marketing efforts, it's part of a collective strategy to generate leads.
If these video marketing myths are preventing you from getting started with marketing, it's time to look at the truth. Video marketing a lucrative tactic that can bring success to your business.
* * *
Free Download: The Beginner's Guide to Digital Marketing
If you want to grow in 2021, now's the time to iron out your marketing plan. To be prepared for budgeting this season, there should really be a digital strategy in place to aid your company in reaching their goals. In this guide, we're going to walk you through everything you need to create a solid marketing plan.
In this download you'll learn how to:
Set achievable goals
Find your ideal customer and create buyer personas
Align your branding and marketing
Analyze your competitors online
Measure digital marketing success
Execute effective digital marketing tactics


---
Need a new digital marketing or web design plan? We are a Minneapolis SEO, digital marketing, social media marketing, web design and HubSpot inbound marketing agency. Stop on by and get started – and while you're here, pick up a free honey stick (yes, we love our bee-related theme).