Create Stunning Marketing Videos Using Your Phone (In Less Than 5 Minutes)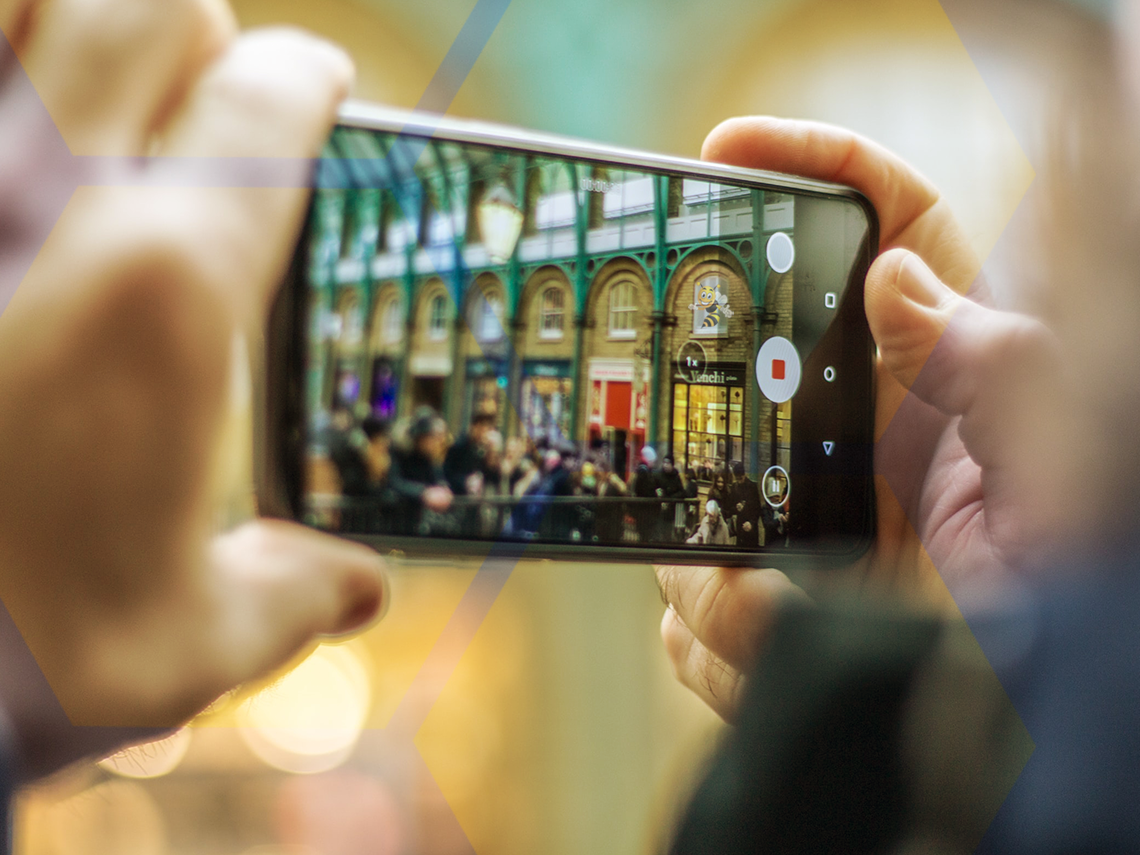 Lights...camera....action!
From 5-second TikTok videos to 3 hour livestreams on Twitch, videos has become a powerhouse beyond YouTube. If you're still struggling with incorporating online video into your marketing, now's the time to jump in.
Many marketers are too intimidated to try video for themselves. They think online video demands the sleek production of television and panic, knowing they don't have the resources or time to pour that much energy into a simple video.
The truly great thing about online video marketing is you don't need boom mics and studio lighting - you have everything you need right in your pocket.
You can make stunning marketing videos just using your smartphone. And best of all? You can do it in under 5 minutes.
Online marketing videos don't need to be grandiose. Just follow these simple tips using any smartphone.
1. Choose the Right Lighting
Just like with photography, good lighting is key. You don't need to splurge on actual lights, but try to find a spot to film that is well-lit.
Natural light works best, but decent indoor lighting can work in a pinch. If you have a window nearby, a simple method is to put the camera in front of the window and then have your subject (whether that's you or an object) facing the widow. Find a spot where light is in front of what you're filming - you don't want to sit with your back to a window as this will create odd shadows.
You may need to experiment with a few different angles before you find one that works best.
The important thing is that when you film you can see everything you're filming clearly. If you don't have natural light, you can also use lamps - just move them so they're in front of whatever you're filming, but behind the camera. In a pinch, you can also film using a computer in a well-lit area and use the backlight as your main lighting for your face.
All of these options are completely free, but if you want to step it up you can also purchase a simple ring light. This will provide better lighting at a much cheaper cost than professional lighting.
2. Stay Steady
Unless you're shooting the next Blair Witch Project, it's a good idea to keep your camera as steady as possible. Hold your phone horizontally, with two hands on either side.
If you're going to be filming in the same spot for more than a few minutes, you can brace your hands or elbows on a flat surface like a table.
If you plan on filming regularly, you can also pick up a cheap tripod on Amazon for less than $15. The budget approach is to carefully lean your phone against a stack of books.
The key is to keep your phone as steady as possible and in the same orientation the whole time. Moving your camera between horizontal and vertical will make it difficult to edit later on down the line, and can also be hard for viewers to follow along.
3. Sound Off
Sound is often overlooked, but critically important when filming. If what you're filming doesn't need sound, try replacing the natural audio with simple music when you edit (more on that later).
If you do need audio, here's how you can get decent audio without buying a mic:
Get close to your subject while filming
Shoot indoors to reduce ambient sound like wind or traffic
Film a test before your actual video to listen for echo or other distortion
For videos with a lot of talking, it's not a bad idea to spend a little extra on a mic to ensure that viewers can understand your videos. Like with tripods, there are many affordable options on Amazon. For most smartphone videos, a simple lapel mic for under $25 will do the trick.
4. Utilize Free Editing Tools
For simple videos, you may not need to do much editing. Both iPhones and Androids come with built-in video editing that let you perform simple edits like trimming the beginning or end, or simple color correction.
If you find yourself needing to splice together more footage or add in sound, iMovie is a fantastic free resource for mac and iPhone users. For Android, we recommend Adobe Premiere as a great free option for simple edits.
Both iMovie and Adobe Premiere can be used right on your phone without needing a computer. You can make all your edits and upload directly to Facebook, YouTube, TikTok, LinkedIn in or your video platform of choice.
With these tips, you can create your own marketing videos in under 5 minutes, all from your phone. But video is just one arm of a strong content marketing strategy - do you have a concrete idea of what to film, what need it serves, and how it fits into the rest of your content strategy?
Free Template: Content Audit
As you plan out your content, you want to make sure that you have goals in mind and track towards them. Your content is the main driver towards your SEO, so having an organized plan is key to measuring results!
With this template you'll get:
An organization method for all of your content
Ability to share with your company the results of your efforts
Place to plan future content and promotion activities
Download the Content Tracker today!
---
Need a new digital marketing or web design plan? We are a Minneapolis SEO, digital marketing, social media marketing, web design and HubSpot inbound marketing agency. Stop on by and get started – and while you're here, pick up a free honey stick (yes, we love our bee-related theme).