How to Dominate Local Search with Inbound Marketing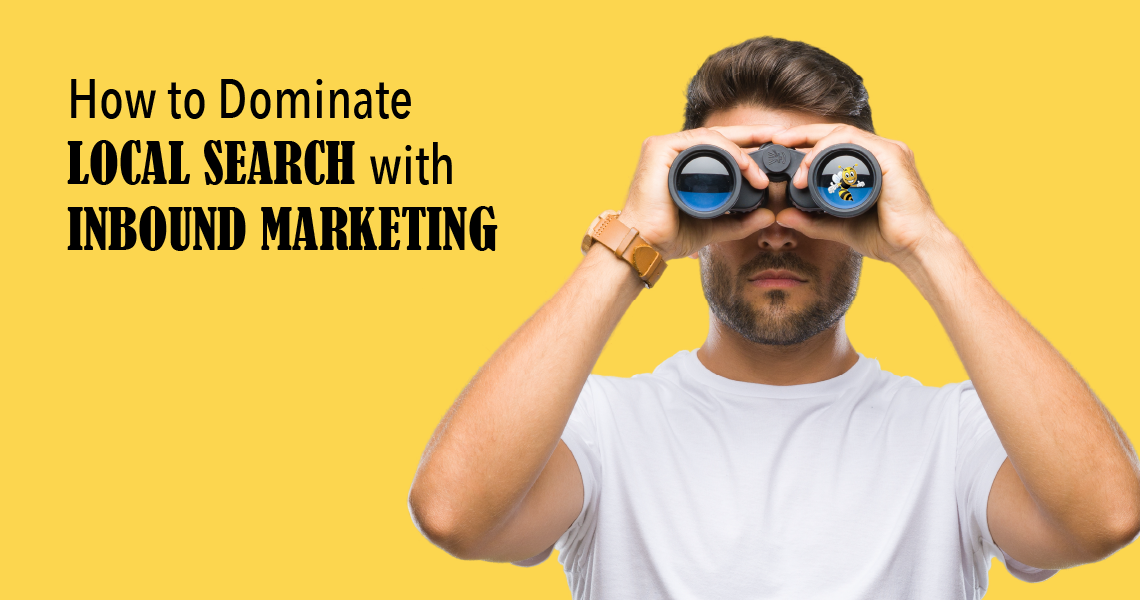 Sometimes, ranking locally in Google searches can be more challenging than trying to rank nationally. However, there's on trick you can try to push you above your competitors: Inbound marketing. This tactic can give your fire more fuel that will help you dominate local search.
What is Local Search Marketing?
Local search is the strategy and practice of attracting local business and customers online. It's very important for any retail, service, or manufacturing entity that doesn't exist solely online. According to comScore.com, nearly 3 billion searches each month include local terms. To best reach your local audience and engage your community, your inbound marketing strategy should include local Search Engine Optimization (SEO).
Local search marketing most often comes in two forms. The first is Google location targeting: where Google analyzes a search users' location and serves them up results closest to them. You'll often see this with search terms like "florists near me." Another common local search is to include local terms in the search query - for example, "florists in Minneapolis."
What is Inbound Marketing?
Inbound marketing is customer-oriented and customer-driven. Simply put, inbound marketing starts with valuable content that your target audience wants, instead of just advertising your services. In a traditional marketing model, you would simply "spread the word" about your business through print or online ads. With inbound marketing, you instead focus on providing valuable information or items your customers can use. For example, you might start with an ebook, a quiz, a checklist or a blog that your ideal customer might find useful. You dangle that content offer to get nibbles in exchange for a form fill or phone call, and then follow-up with more direct advertising.
The key takeaway is that inbound marketing is customer-centered. They find you, you don't find them.
How to Dominate Local Search with Inbound Marketing
Content, Content and Then More Content
Content is key to any inbound marketing strategy and a local search strategy is no different. This is because content is a major building block of SEO and it allows you simultaneously build a local following. As you create content for your inbound campaigns, this can improve your overall local search rankings. Vary content distribution across platforms, using a variety of content types to reach as many users as possible and improve search engine rankings. Consider using local terms where it's natural - for example, "How to Rank in Minneapolis with HubSpot Inbound Marketing."
Update Your Google My Business Listing
Before you can rank locally, you'll need to have a Google My Business listing that's accurate and up to date. Google My Business feeds directly into critical local search tools like map results.
Keep It Local
To dominate your local search area, create a well rounded relationship with customers, businesses and even local authorities in your professional area. Curate a relationship with complimentary businesses, follow and add to local events and news, and list your contact information their website. For example, if you are a local caterer, work with a linen supplier to do a guest post on their blog, or post a joint video covering a community event you are both serving.
Whenever possible include location details or links back to information so new customers can find you quickly and easily. Develop a local following through social media, the area chamber of commerce or small business associations. Use CRM tools like HubSpot to make contact management easy.
Solicit Reviews
Build trust with new and returning customers by embracing reviews. Reviews can be intimidating, especially in the case of a less than happy customer. However, studies show most people start initial searches online and make decisions based on reviews. Post your reviews prominently and thoughtfully engage with your reviewers to build goodwill that you stand by your brand.
Following these steps will help you show up more often in local search results. Making local a part of your SEO and inbound marketing strategy is critical for getting found online.
* * *
Free Guide: The Beginner's Guide to Inbound Marketing
All you have to do is follow the guide! Download the The Beginner's Guide to Inbound Marketing to get started!
In this download you'll find:
A step-by-step guide on how to create an inbound marketing strategy, including building buyer personas and setting SMART goals
Sample lead magnets to use in your inbound marketing campaigns
Step-by-step instructions to create a lead capture form
A checklist for creating an effective landing page
Instructions for building automated emails
Actionable tips for marketing your campaign to a new audience
Steps for optimizing your campaign for search engines


Download Our FREE Guide to Inbound Marketing
Need a new digital marketing or web design plan? We are a Minneapolis SEO, digital marketing, social media marketing, web design and HubSpot inbound marketing agency. Stop on by and get started – and while you're here, pick up a free honey stick (yes, we love our bee-related theme).