How to Get More Leads from Your Website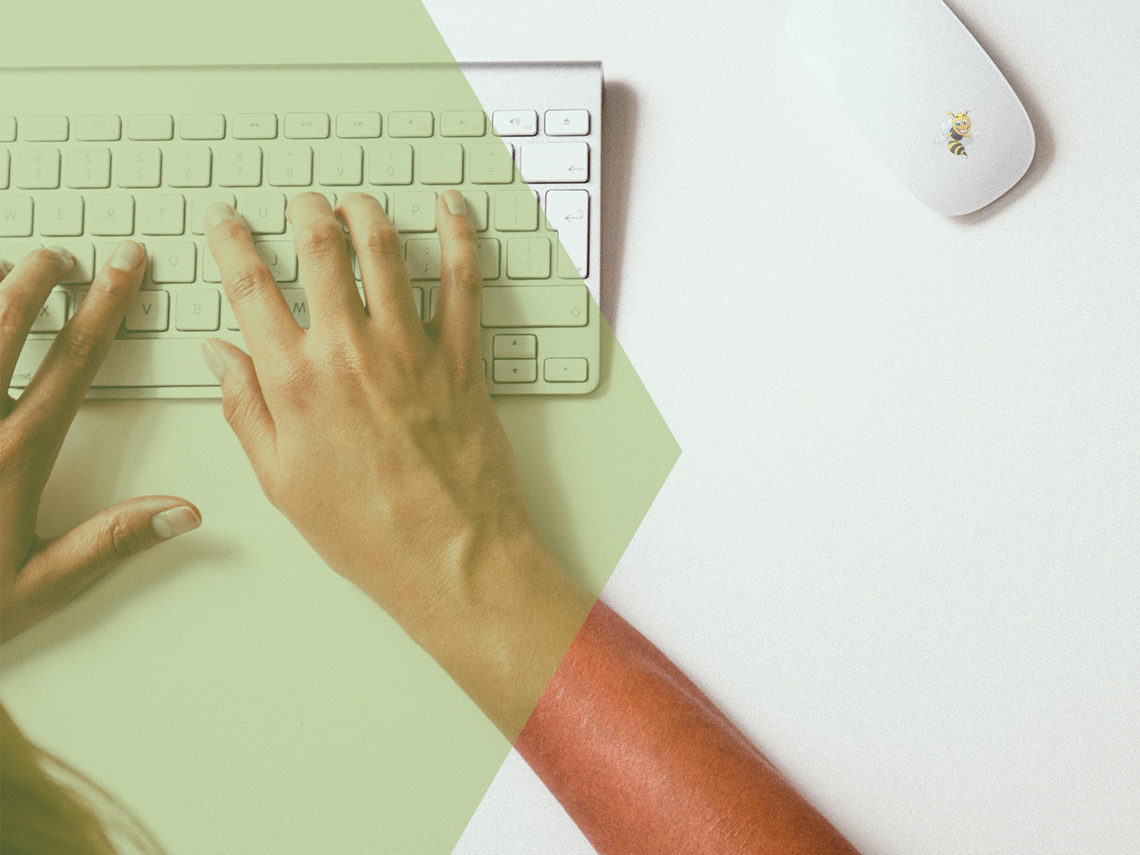 The ultimate goal of almost every website is to get people to do something. Whether you want them to buy a product, fill out a form or pick up the phone, getting them to take that action can prove a massive challenge.
It's even more challenging when your site isn't set up to generate leads. If you're not getting the leads you want out of your site, make sure you're following all these steps to ensure that your site is ready to attract customers.
Develop a Strong Content Plan
In order to generate more leads, you first need to know who your ideal customer is and what their wants and needs are. You also need to have content on your site that's regularly-updated to keep new users interested.
Having a regular blog is an easy way to provide fresh content that addresses your audience's wants and needs.
Before you create any lead-building strategies, however, you need to define who that audience is.
Find Your Target Market Through Personas
Buyer personas are fictional, generalized representations of your ideal customers. They help you understand your customers (and prospective customers) better and make it easier for you to tailor content to the specific needs, behaviors and concerns of different groups.
The strongest buyer personas are based on market research as well as on insights you gather from your actual customer base (through surveys, interviews, etc.).
Personas should have a name, age, goals and challenges.
For example, your persona might be Homeowner Harry: a man in his mid 50s who is a sales manager in a mid-sized organization and lives in a suburban area, looking to remodel his kitchen.
Your specific personas will depend on your business, but it should be reflective of your customers.
Conduct Keyword Research to Find the Right Words
After you identify your audience, you need to determine what they're searching for online to know what your content should be based around and what words/phrases to use while writing. This is a process called keyword research.
"Florists near me" is example of a keyword, something you would type into Google (or, increasingly, speak into your phone) to find what it is you're looking for. As a business on the other side of the equation you have to tap into that consumer mindset to find the right keywords to use in Search Engine Optimization (SEO).
Keyword research is a mix of database research, anthropological study, statistics and psychology. It's matching what you know about your business with what people search for online.
Create a Content Plan to Reach Your Personas
Next, take a look at your existing content on your website.
Do you have pages for every main service you offer?
Do you have a blog on your website?
Does your content overall speak to the personas you've created?
An easy way to get started with making a content plan is to conduct a content audit on your current website. A content audit is a process where you review all current content you have – websites, blog posts, events, videos, eBooks, etc.
A content audit lays out every content asset you have and where it lives on your site.
Once you have this laid out, you can clearly see where there are gaps and opportunities. You may find that your site is missing a page for a service you really want to highlight, that your site doesn't have a blog, or any other gap that would interfere with your audiences journey through the site.
From here, you can make a plan for content moving forward:
What pages are needed on the site
Who will write the content
Our capacity for writing blogs - can we do 4 a month, 1 a month, or 1 a quarter?
The specific blogs we'll write (using the keywords we found)
Offer Value and Places to Engage
Once you know who your audience is and have a plan for continuing content development, in order to get more leads you have to give your audience something to engage with.
Having a simple contact us or request a quote form isn't enough - your visitor might not be ready to make such a strong commitment during an early stage of the buyer's journey. Instead, you need to offer them something of value that speaks to their current mindset.
This is where you can tap into inbound marketing to create valuable content that your audience is willing to give you their contact information in order to access.
What is inbound marketing?
Inbound marketing is customer-oriented and customer-driven. Simply put, inbound marketing starts with valuable content that your target audience wants, instead of just advertising your services.
In a traditional marketing model, you would simply "spread the word" about your business through print or online ads. With inbound marketing, you instead focus on providing valuable information or items your customers can use. You dangle that content offer to get nibbles in exchange for a form fill and then follow-up with more direct advertising.
This generates more leads because it doesn't require your visitors to be in a buyer's mindset in order to take action. Usually, they'll be much more willing to reach out to you when in the research stages of their journey than having to wait until they're ready to buy.
Inbound Marketing Content Types:
eBooks: Take a look back at some blogs you've done – a simple eBook idea is to take a few blogs you've written on the same topic and compile them into one larger eBook.
Quizzes: You can create targeted quizzes related to your industry and gate the results – simply have people enter their email before they can see their results. Quizzes are unique content offerings in that they're interactive and allow you to mine more information about your leads before you meet with them.
Gated Videos: Try creating a webinar about a topic that you're knowledgeable about (or even have a roundtable discussion with other thought leaders in your industry). You can then work this into an inbound marketing campaign by gating the video – requiring visitors to fill out a form or RSVP online before they are given access to the video.
Templates/Worksheets: Templates or worksheets are a fantastic way to deliver content to your audience that they can use. Best of all, these content pieces will be used again and again.
Checklists: A checklist can help someone new to a process or concept navigate through it with ease. Checklists are also very simple to create as they're typically only a few pages in length.
Use Compelling Calls-to-Action (CTAs)
Finally, you need to make it as easy as possible for your site visitors to find these assets by using calls to action (CTAs). These are eye-catching links on a page that guide a visitor through your website.
The most common CTA type is a button, but they can also take the form of in-content links (see if you can spot any in this blog).
Calls-to-action:
Use action language: "Download now" "Get started" "Click to.."
Are clear: There's should be no doubt in your visitor's mind about where clicking a CTA will take them.
Stand out visually: Whether they use a larger font size, different colored background or are part of a graphic, CTAs should clearly stand apart from the rest of your text to generate interest.
Your calls-to-action should point to relevant blog posts, inbound content offers or contact us forms.
Optimize Your Site for Lead Generation
Another way to get the most possible leads from your website is to optimize it for lead generation and conversion. This means not just following all the steps above, but continuously monitoring performance and tweaking your website through improvements.
An easy way to ensure continuous improvement is by following a Growth-Driven Design (GDD) web design approach.
What is Growth-Driven Web Design?
Growth-Driven Web Design is an approach to web design that focuses on smaller changes executed throughout the year, based on user data. Instead of focusing all your time and energy upfront, you spend less time initially on the site but more time throughout the year updating the site.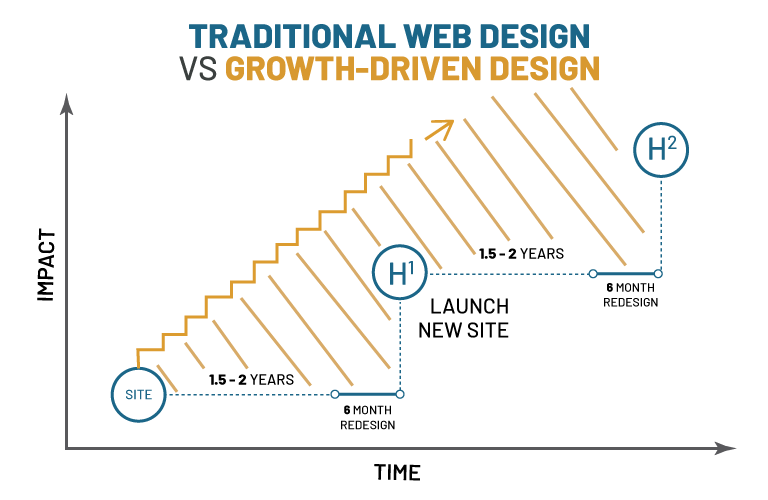 Unlike traditional web design, Growth-Driven Web Design breaks down into a 3-step process:
1. Strategy
2. Launch Pad
3. Continuous Improvement
Getting leads is a challenge that many websites face, but it's one that can be overcome with enough thoughtful preparation and execution.
Knowing your target audience, creating compelling content and optimizing your site for lead generation will help you get more sales in the long run.
* * *
Get More Leads with Growth-Driven Web Design - Free eBook
Growth-Driven Web Design is not only easier on your team and wallet- continuous updates and improvements to your website will keep your customers coming back for more. This free eBook goes over Growth-Driven Web Design and what you need to know to get started.
---
Need a new digital marketing or web design plan? We are a Minneapolis SEO, digital marketing, social media marketing, web design and HubSpot inbound marketing agency. Stop on by and get started – and while you're here, pick up a free honey stick (yes, we love our bee-related theme).