How to (Legally) Find and Use Images on Social Media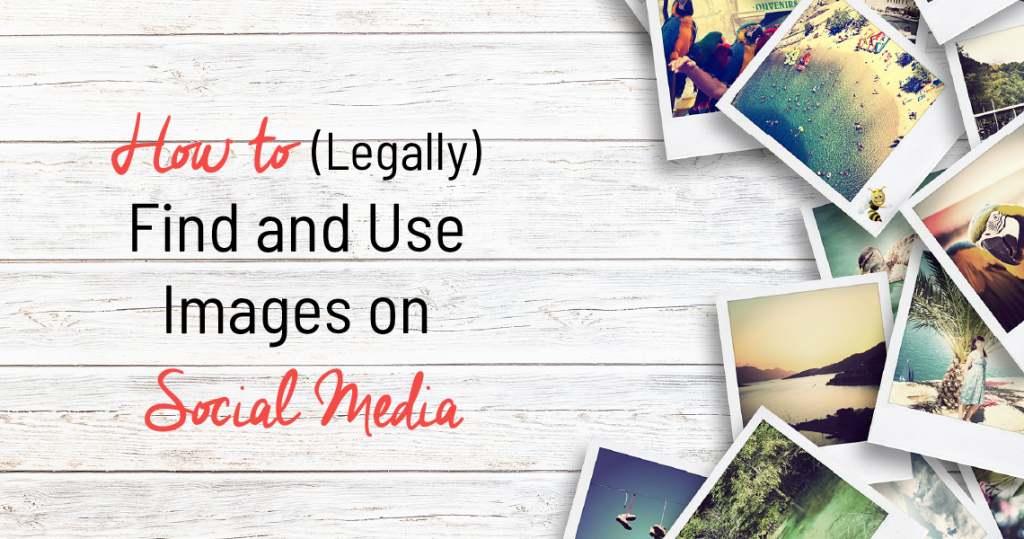 Many business owners mistakingly think that they can use any photos they find online - after all, Google is free so shouldn't any photo on Google be free? Using photos that you don't have the rights to opens you up to copyright violation, which comes with a hefty legal fee. A picture is worth a thousand words, but is it worth $30,000 - $150,000 in fees per image? The answer is a resounding NO.
Avoid the hassle by knowing exactly what kind of photos are ok to use and where to find them. If you're looking for images to use on social media, here's what you need to know about copyright law.
Can I Use This Photo on Social Media?
If in doubt, this flowchart from HootSuite walks through using images online legally: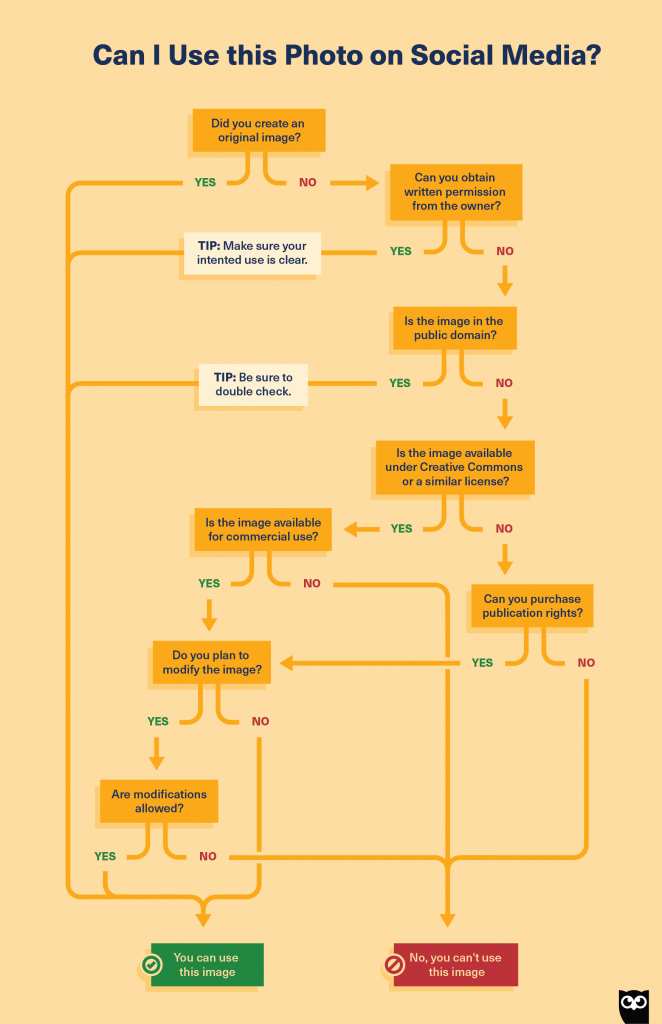 In order to safely use images online, they must be one of the following:
An original image you created
An image purchased from a stock photography/imagery website
An image used with written permission from the owner
An image in the public domain
An image available under Creative Commons or a similar license
As long as your image fits one of these guidelines, you should be able to legally use it. Keep in mind that some photos will require attribution, while others won't.
Where to Find Images to Purchase Online
If you're looking for highly specific images or want 100% clarity that you have the right to use, purchasing photos online is the way to go. When you're purchasing photos online, it's best to stick to high-profile, reputable companies. Even if you see the same photo for sale cheaper on another website, resist the urge. Sticking with widely-used and reputable sites ensures you have a good legal backing behind photos.
Best Websites to Purchase Photos:
These websites will all provide you a license to use these photos and also most will also keep a record of the photos you download. If you want to be cautious, you'll want to keep that record or a record of your own so you have absolute proof that you obtained the photo legally.
Where to Find Free Images Online
Before you use free images, it's very important to familiarize yourself with Creative Commons. Creative Commons is the most popular licensing tool online. Simply put, photographers and artists can license their work under various CC licenses, which then informs users how those images can and cannot be used. You can find the full list of CC licenses on the Creative Commons website. When looking at free images online for your business, you'll want to look for photos licensed under the following CC licenses:
Best Websites to Find Free Photos:
Most of these websites license their photos under CC0 which means that you're free to edit and use without attribution. However, you should always check the license before using a photo to ensure you're following the requirements.
Finding images for social media requires some special considerations, but it doesn't have to be difficult. Stick to the websites linked above and follow all the required guidelines and you should be in the clear.
* * *
Supercharge Your Digital Marketing
Having a great website is only half the battle: You need to drive traffic and interest to your business, deepen customer relationships, generate new leads and enhance your search rankings so you show up when your customers are ready to buy. Digital marketing is the engine that drives traffic to your website. BizzyWeb's digital marketing programs include fully-integrated solutions for content marketing, search engine optimization (SEO), pay per click advertising, social media marketing, email marketing and inbound marketing.
Learn How to Supercharge Your Marketing
Need a new digital marketing or web design plan? We are a Minneapolis SEO, digital marketing, social media marketing, web design and HubSpot inbound marketing agency. Stop on by and get started - and while you're here, pick up a free honey stick (yes, we love our bee-related theme).