How to Post COVID-19 Updates to Your Google My Business [VIDEO]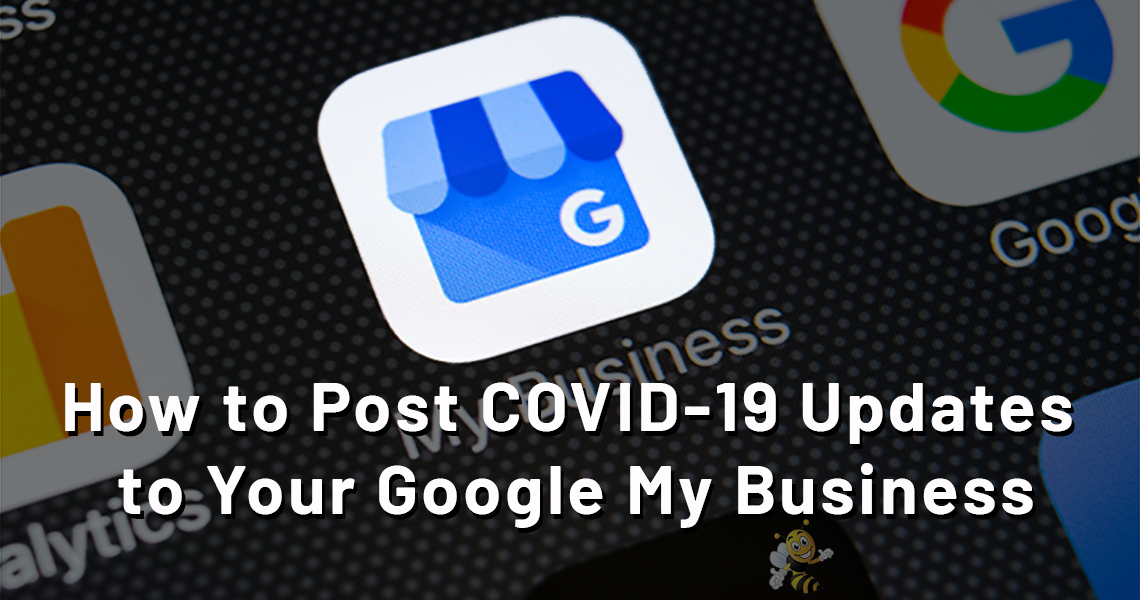 During these uncertain and rapidly-changing times, it's important to keep your customers informed so they can stay connected.
If you want to keep everyone in the loop about your response to COVID-19 (Coronavirus) as it develops, Google has just added a few feature that makes that easier. Google My Business now has a special post type for COVID-19 updates, so you can post updated hours, safety procedures and other relevant information as it develops.
How to Post COVID-19 Updates to Your Google My Business
Step 1: Log Into Your Verified Google My Business Page
First, you'll need a verified Google My Business page. This is where your business information, customer reviews and map information is housed in Google. Go ahead and log into your account.
What if I'm not sure if I have an account, or I can't remember the login information?
Don't worry! If you set up a Business Listing long ago and can't remember what email you used, there's a way to find out. First, go to the Google My Business main page and click on "start now" in the upper right corner. From here, fill in all your business information.
If you have already created a Google My Business page, a message will pop up letting you know someone else is managing the page.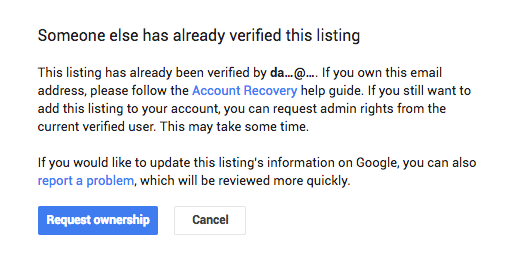 Unfortunately, for security Google will only show you the first two letters of the email associated with the account. If you can puzzle out which email it is from that, go ahead and follow the steps above to log in. If you still aren't sure which email address that is, click on the "request ownership" link. This will send an email to that current email address. Check your various accounts and have your staff check theirs. Note that the email will likely come through in your "social" or "updates" tab in Gmail. If you still don't see an email come through, follow these steps again and click on "account recovery" to take action.
What if I don't have an account? Or what if my account isn't verified?
If you don't currently have a Google My Business account, getting setup is pretty quick. You can follow the directions on our blog for how to create an account.
If your account is not verified, you will see an option to do so as soon as you login.
Be aware that Google has de-prioritized business updates for all non-healthcare businesses at the moment, so it may take longer than normal to create or verify an account.
Step 2: Once Logged in, Select "Posts," then "Covid-19 Update"
Once you've successfully logged in, navigate to the posts section by selecting it from the menu on the left. Once there, you'll see an option to post COVID-19 updates.

From here, you can post updates. These will show up in Google searches when people are looking for your business information.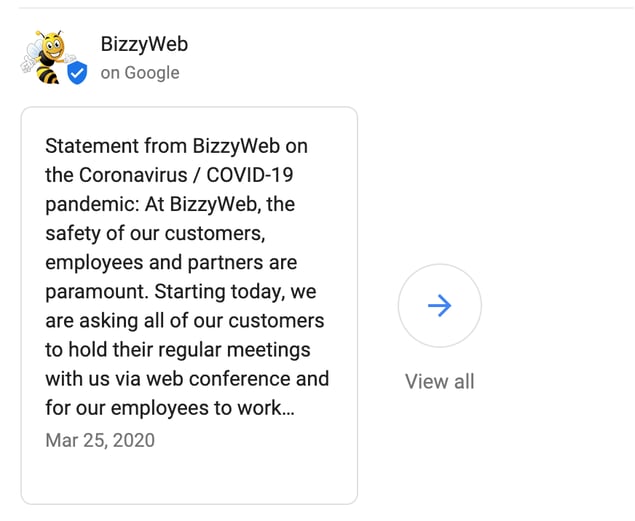 Following these steps, you can update your customers quickly and easily as soon as you need to. As things develop, it's important to be able to keep your customers in the loop.
* * *
Jump Start Your Business
Many companies are looking for new, creative ways to conduct business – taking their products or services online to facilitate sales, appointment setting and online ordering or quoting. Some have had to shift focus to lines of business that weren't a priority before. And how do you take it to market remotely?
BizzyWeb is offering a special Jump Start Strategy to get you on the road to success! This personalized strategy gives you a roadmap of actions to take to meet your business goals. Not sure how to transition online? Struggling to pivot during COVID-19? The Jump Start Strategy will give you ideas of where to go and how to ramp up your business.
Now is the time to look forward, not back, and figure out how to jump start a process that can help you grow.
That's what BizzyWeb's passion is – helping companies grow!
Need a new digital marketing or web design plan? We are a Minneapolis SEO, digital marketing, social media marketing, web design and HubSpot inbound marketing agency. Stop on by and get started – and while you're here, pick up a free honey stick (yes, we love our bee-related theme).