How to Rank in Minneapolis with HubSpot Inbound Marketing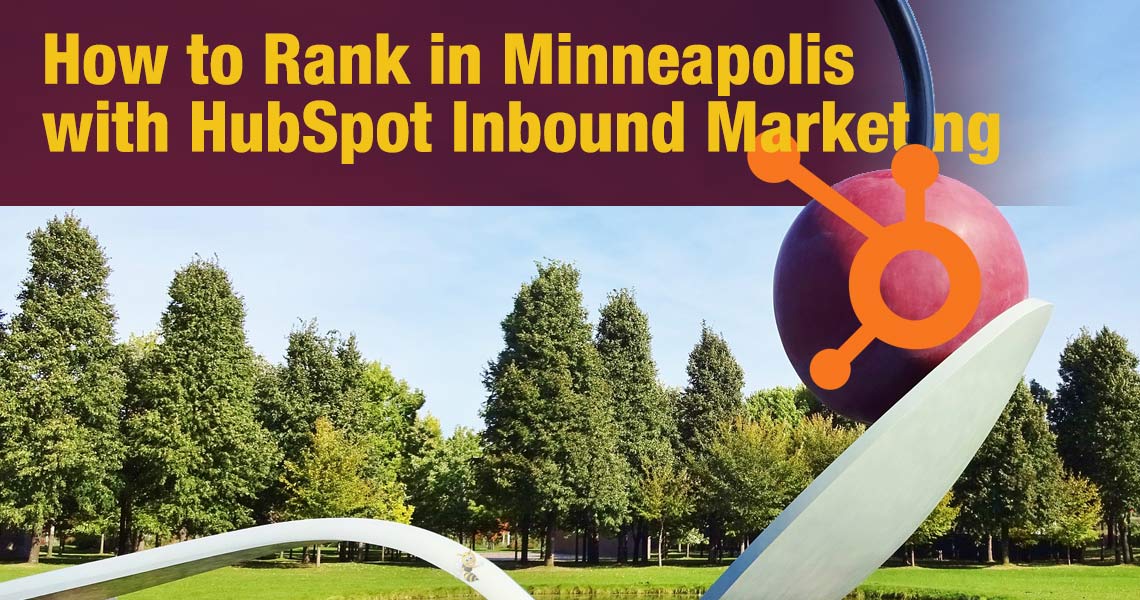 Struggling to rank for key terms in Minneapolis among your competition? Don't write off digital marketing - you just may not be using the right tactics. Inbound marketing helps your content stand out and improve your shot at ranking in Minneapolis.
What is Inbound Marketing?
Inbound marketing is customer-oriented and customer-driven. Simply put, inbound marketing starts with valuable content that your target audience wants, instead of just advertising your services. In a traditional marketing model, you would simply "spread the word" about your business through print or online ads. With inbound marketing, you instead focus on providing valuable information or items your customers can use. For example, you might start with an ebook, a quiz, a checklist or a blog that your ideal customer might find useful. You dangle that content offer to get nibbles in exchange for a form fill or phone call, and then follow-up with more direct advertising.
While you can do inbound marketing on any tool, we recommend HubSpot because it gathers all your content in one place.
What is HubSpot?
HubSpot is a comprehensive marketing tool and CRM. HubSpot's marketing platform is built with inbound marketing in mind. As a Minneapolis HubSpot agency, we use this tool to create inbound marketing campaigns that drive action.
HubSpot includes all of the content pieces in your inbound campaign:
Landing pages
Email marketing
Social media marketing
Blogging
Campaign creation
Simply put, it's a tool you can use to execute your inbound marketing ideas without having to coordinate across multiple softwares.
How Do I Get Started with Inbound Marketing?
You can start your inbound marketing journey at any time. We have an entire guide on how to do inbound marketing you can follow, but at a glance here are the key steps:
Set SMART goals – Define what "success" is to you in order to guide your strategy.
Define your ideal customer – Create buyer personas to determine who exactly you want to reach in the attract stage.
Research – Once you know your customer, figure out what language they use to search online and what behaviors they take.
Create assets – Create the specific content offers and follow-ups your ideal customer would want to download.
Set it live – Turn on your advertising, set up automation and plan and schedule content pieces.
Analyze – Make sure to consistently monitor your performance and adapt your strategy as needed.
How Can I Use HubSpot and Inbound to Rank in Minneapolis?
The more optimized your marketing is with Minneapolis in mind, the likelier you are to rank. Practically, this means following best practice tips.
Use Location-Based Keywords
If you want to rank for phrases like "florist near me" or "HubSpot Agency Minneapolis," it's time to use a little local flavor in your keywords.
Instead of: Warehousing and distribution
Try This: Warehousing and distribution in Minneapolis
For Google, this defines your inbound marketing campaign as Minneapolis-oriented or of interest to those in Minneapolis. This can help you stand out on a local level by delivering better content, while straying away from broader competition on a national level. In HubSpot, you can sprinkle your keywords into your website, blog and landing page content.
Use Location Targeting
When advertising online, target your ads to people located in or around Minneapolis. Both Facebook and Google Adwords allow you to zero-in on a specific location. This can help push your inbound marketing campaign only to people in your desired area. You can use location targeting within HubSpot's ad platform.
Use Lookalike Audiences
When advertising in Google Adwords and Facebook, tap into the power of lookalike audiences. Simply put, you import a contact list of current clients or warm leads and Facebook/Google will put your ads in front of similar people, including those in the same location as your current clients. You can use lookalike audiences targeting within HubSpot's ad platform.
Follow these tips to give your inbound marketing a little Minneapolis flavor.
* * *
Free Guide: The Beginner's Guide to Inbound Marketing
All you have to do is follow the guide! Download the The Beginner's Guide to Inbound Marketing to get started!
In this download you'll find:
A step-by-step guide on how to create an inbound marketing strategy, including building buyer personas and setting SMART goals
Sample lead magnets to use in your inbound marketing campaigns
Step-by-step instructions to create a lead capture form
A checklist for creating an effective landing page
Instructions for building automated emails
Actionable tips for marketing your campaign to a new audience
Steps for optimizing your campaign for search engines


Download Our FREE Guide to Inbound Marketing
Need a new digital marketing or web design plan? We are a Minneapolis SEO, digital marketing, social media marketing, web design and HubSpot inbound marketing agency. Stop on by and get started – and while you're here, pick up a free honey stick (yes, we love our bee-related theme).