How to Update Your Google My Business Listing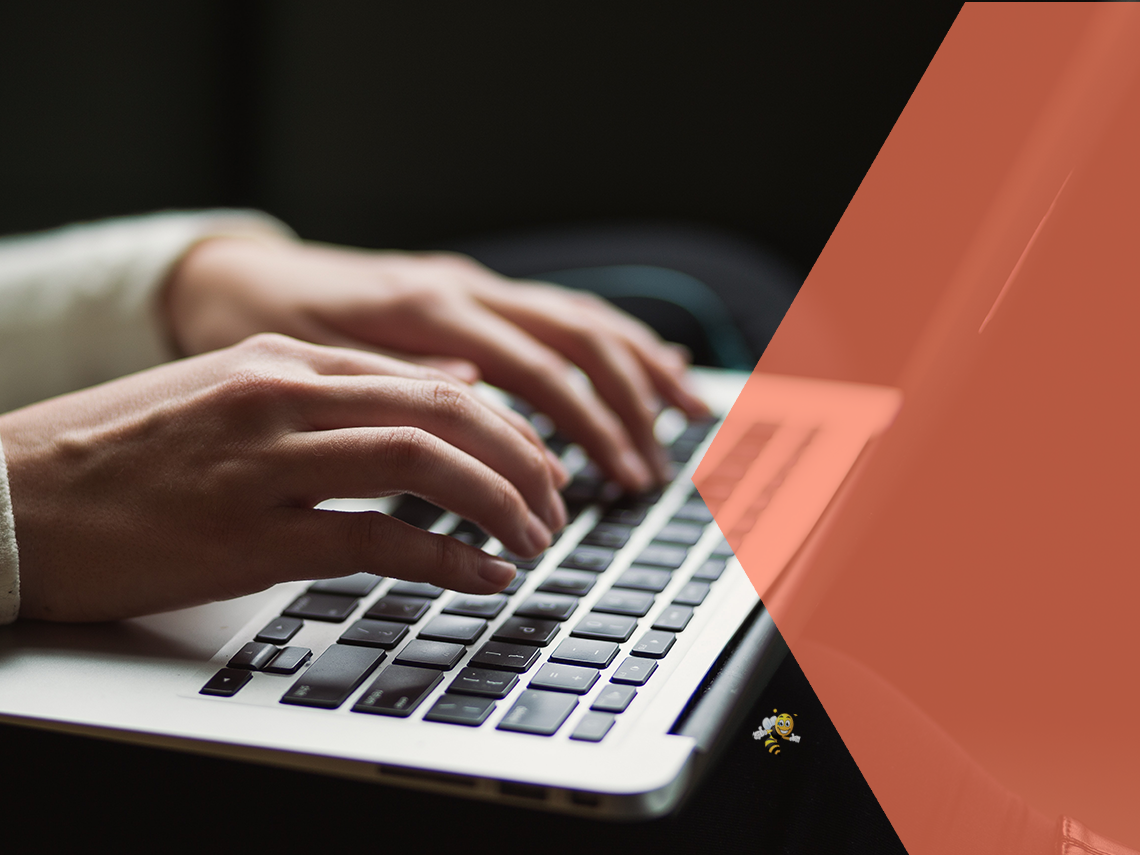 If there's one topic we get the most questions about from our clients, it's definitely Google My Business. And understandably! Google My Business is notoriously confusing and hard to use (sorry Google!). You might not even know what Google My Business is, but you've definitely seen it action: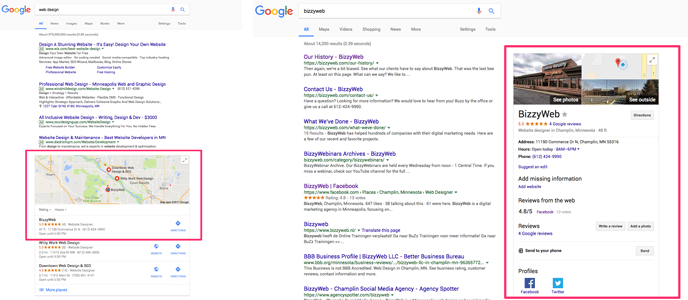 A Google My Business listing helps you show up in search results and provide accurate information to your clients. In many cases, you may not have even created a profile - sometimes Google will create one for you based on your business. We'll walk you through how to get control of your Google My Business page and how to update it.
Step 1: Log Into Your Account
The tricky thing with Google My Business is that there is no direct login - instead, your business listing is tied to a personal gmail account. Before you can log into your listing, let's make sure your personal gmail account is attached.
If You DO Know Which Gmail Account Is Attached to Your Business Listing:
If you already know the personal gmail account tied to your business listing, logging in is easy! Make sure you're logged into that email account on gmail.com. Next, go to the Google My Business main page, and click on "sign in" in the upper right corner. From there, the page should refresh automatically.
If You DON'T Know Which Gmail Account Is Attached to Your Business Listing:
Don't worry! If you set up a Business Listing long ago and can't remember what email you used, there's a way to find out. First, go to the Google My Business main page and click on "Manage now" in the upper right corner. From here, fill in all your business information.
If you have already created a Google My Business page, a message will pop up letting you know someone else is managing the page.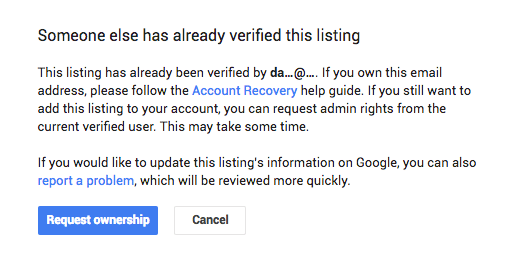 Unfortunately, for security Google will only show you the first two letters of the email associated with the account. If you can puzzle out which email it is from that, go ahead and follow the steps above to log in. If you still aren't sure which email address that is, click on the "request ownership" link. This will send an email to that current email address. Check your various accounts and have your staff check theirs. Note that the email will likely come through in your "social" or "updates" tab in Gmail. If you still don't see an email come through, follow these steps again and you'll see an option for "account recovery." You'll need to follow those directions to regain access to your listing.
If You Don't Have a Google Business Listing:
No time like the present! Luckily, setting up a business listing is easy and takes less than half an hour. If your business doesn't come up when you search for the address, you'll be prompted to create a listing. Google My Business is very user-friendly: just follow the steps on the screen and it will create a page for you.
Step 2: Getting To Your Information
Once you've logged into Google My Business, you should re-directed to your business page. If you manage multiple listings, just click on the name of the listing you want to edit. Click on "Info" in the lefthand menu to update your business information.
Step 3: Updating Your Information
Google is pretty limiting on the information you're allowed to display, but most of the basics are covered. Not all of these sections are required, so only fill out the ones that are relevant to your business.
These are the following areas you can edit, from top to bottom:
Company Name: This needs to be your name as it appears on your building, business cards, etc.
Category: This describes what your business is (retail, marketing, restaurant, etc.). You HAVE to choose a category that Google My Business suggests, instead of being able to write in any category. Our tip is to choose a more broad primary category, and be more specific by adding additional categories. For example, at BizzyWeb our primary category is "Website Designer" and our additional category is "Marketing Agency."
Location: Having an accurate location is crucial for customers finding you.
Service Areas: The areas serviced is extremely important for any business that delivers goods and services to customers at their location. You can enter in specific postal codes or a radius around your business. Doing this will allow your business to show up for people searching for your type of business in those areas you define.
Hours: Hours are also crucial on Google, since many customers will rely on your listing to know when you're open. Try to be as accurate as possible.
Special Hours: This is where you can add special hours, such as holiday hours, to keep your listing as accurate as possible. When customers search for your hours on those days, they will see your special hours instead of your regular hours.
Phone Number(s): Include phone numbers for your customers to contact you.
Profile Short Name: This creates a shorter URL that's easier for customers to find you online. In most cases, you'll just want to use your business name unless it's very lengthy.
Website: The URL of your website, so customers can visit it right from Google.
Appointment Links: If you have the option for customers to make appointments online, including a link here will make it easier for them to do so right from Google.
Products: If you sell products, you can define them here. If you have a large catalogue, stick to high-level product categories.
Services: In this section you can define the services you offer if you're a service-based company.
Attributes: These are descriptors for the business that you can select, such as "identifies as Black-owned" or "online appointments." Choosing these helps your customer learn more about you.
From the business: This is a brief description of your company. This should be your company bio, similar to the one you would have on Facebook or LinkedIn.
Opening Date: You can indicate when your business opened if you choose.
Add Photos: Adding photos changes what shows up for people when they search for your business. It's a good idea to add a photo of the outside of your building as well as the inside (if you service clients at your location).
Following these steps will update your Google My Business profile. Doing so will help you show up in Google searches and Google Map Searches, as well as providing your customers valuable information. The less your customer has to work to find basic information like your phone number and hours, the more satisfied they'll be.
* * *
Free Download: The Beginner's Guide to Digital Marketing
If you want to grow in 2021, now's the time to iron out your marketing plan. To be prepared for budgeting this season, there should really be a digital strategy in place to aid your company in reaching their goals. In this guide, we're going to walk you through everything you need to create a solid marketing plan.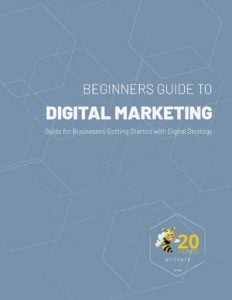 In this download you'll learn how to:
Set achievable goals for 2021
Find your ideal customer and create buyer personas
Align your branding and marketing
Analyze your competitors online
Measure digital marketing success
Execute effective digital marketing tactics


---
BizzyWeb is a Minneapolis-based digital marketing and web design agency that helps companies get the high-quality leads they need to grow and thrive. Our tactics include inbound marketing, SEO, advertising, web design, content creation and sales automation. We are an accredited HubSpot Platinum Partner and we offer full-service HubSpot onboarding, enablement and strategy for new and current users.