Is This the End of YouTube? What You Need to Know about COPPA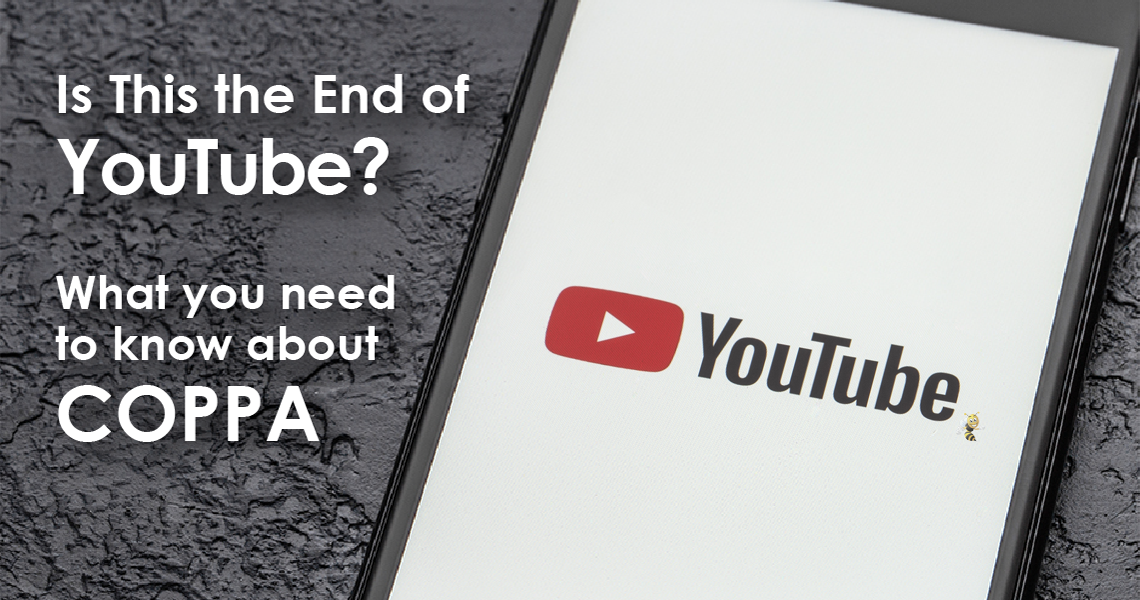 In September 2019, Google and YouTube made history for landing the largest COPPA fine ever - a whopping $170 million for allegedly violating child privacy.
Ouch.
Because of the settlement, YouTube is scrambling to restructure how videos aimed at children serve up advertisements. YouTube announced that creators now need to label any video of theirs that may appeal to children. Failure to do so (or intentionally mislabeling videos) could result in a hefty fine courtesy of the FTC. This has led to a mild panic online with many creators - and business owners - unsure of what to do and if this will impact their YouTube channel.
What is COPPA?
The Children's Online Privacy Protection Act (COPPA) protects the personal information of children under 13. The act prevents children's personal information from being collected without explicit consent from their parents.
How Does this Impact YouTube?
YouTube boasts a powerful ad-targeting system, which has gotten them into hot water. Under COPPA, YouTube can't use this system on anyone under 13. They previously did not gain the explicit parental consent needed under COPPA, hence their hefty fine in September. In order to try and comply with the act, YouTube is now asking creators to mark their own content as either targeted toward children or targeted toward adults. YouTube's rules explain how to determine whether or not a video is aimed at kids:
According to the FTC's guidance on COPPA, a video is child directed (which we call "made for kids") if:
Children are the primary audience based on the factors described below.
Children are not the primary audience, but the video is still directed to children based on the factors below.
When deciding whether or not your channel or video is made for kids, you should consider various factors, including:
Subject matter of the video (e.g. educational content for preschoolers).
Whether children are your intended or actual audience for the video.
Whether the video includes child actors or models.
Whether the video includes characters, celebrities, or toys that appeal to children, including animated characters or cartoon figures.
Whether the language of the video is intended for children to understand.
Whether the video includes activities that appeal to children, such as play-acting, simple songs or games, or early education.
Whether the video includes songs, stories, or poems for children.
Any other information you may have to help determine your video's audience, like empirical evidence of the video's audience.
For creators who videos are aimed at kids or may be considered aimed at kids, they will receive less ad revenue for those videos and be locked out of certain features (like comments or end screens). If a video is not marked as kid-friendly but is aimed at children, the FTC can seek up to $42,000 for each mislabeled video. YouTube will also be introducing an automated system designed to flag videos that are not marked as kid-friendly but that should be marked as kid-friendly.
What Do I Need to Do?
First, you'll want to mark your channel as either kid-friendly or adult-only in your YouTube settings. You also have the option to set this on a video-by-video basis, but giving your channel a setting will automatically apply it to all your videos and let YouTube know how to classify your channel. It's important to take these steps even if your channel is not monetized.
Step 1: On YouTube, click on your user icon in the upper right. Click on "YouTube Studio" from the menu that appears.

Step 2: Click on "Settings" from the left menu. Then select "Channel" and from here, "Advanced Settings."

Step 3: Choose your audience.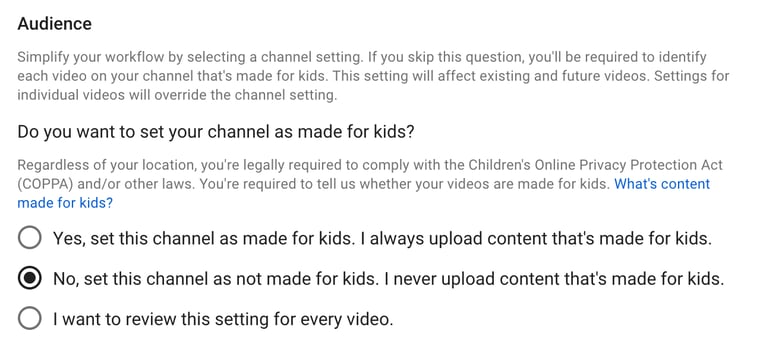 If you produce content only aimed at adults, you'll want to mark it as adult-only.
If you produce content aimed at children or content that also appeals to children, you'll want to mark it as children-only.
If you produce content that is mostly aimed at adults but may occasionally produce videos that are acceptable for children, you can choose to manually review each video.
Should I Be Worried?
The answer is "probably not," but it's unclear exactly how this system will look until January 2020, when it's fully rolled-out. Most business' YouTube channels are either not monetized or are not a primary revenue stream for the business, so this change will have little affect on your earnings. Businesses who straddle the line between kid-friendly and adult (such as gaming companies) may want to take an extra precaution and mark their videos as kid-friendly so long as they don't contain inappropriate material like swearing, drinking or sexual references. For those businesses in a gray area, you should speak to a lawyer versed in COPPA to make sure you are compliant.
* * *
How's Your Digital Marketing Strategy For 2020?

In this guide, we're going to walk you through the easy-access ways to get started – from making the most of search engines to buying your first online ads. All the channels will be familiar to you – Facebook, Twitter, Google, email and your own website – but we'll give you the steps you need to feel confident you're testing and investing in the way that's right for you and the growth of your business.
Download the guide and you'll also get a BONUS offer.
20% OFF YOUR 2020 MARKETING STRATEGY!
---
Need a new digital marketing or web design plan? We are a Minneapolis SEO, digital marketing, social media marketing, web design and HubSpot inbound marketing agency. Stop on by and get started - and while you're here, pick up a free honey stick (yes, we love our bee-related theme).