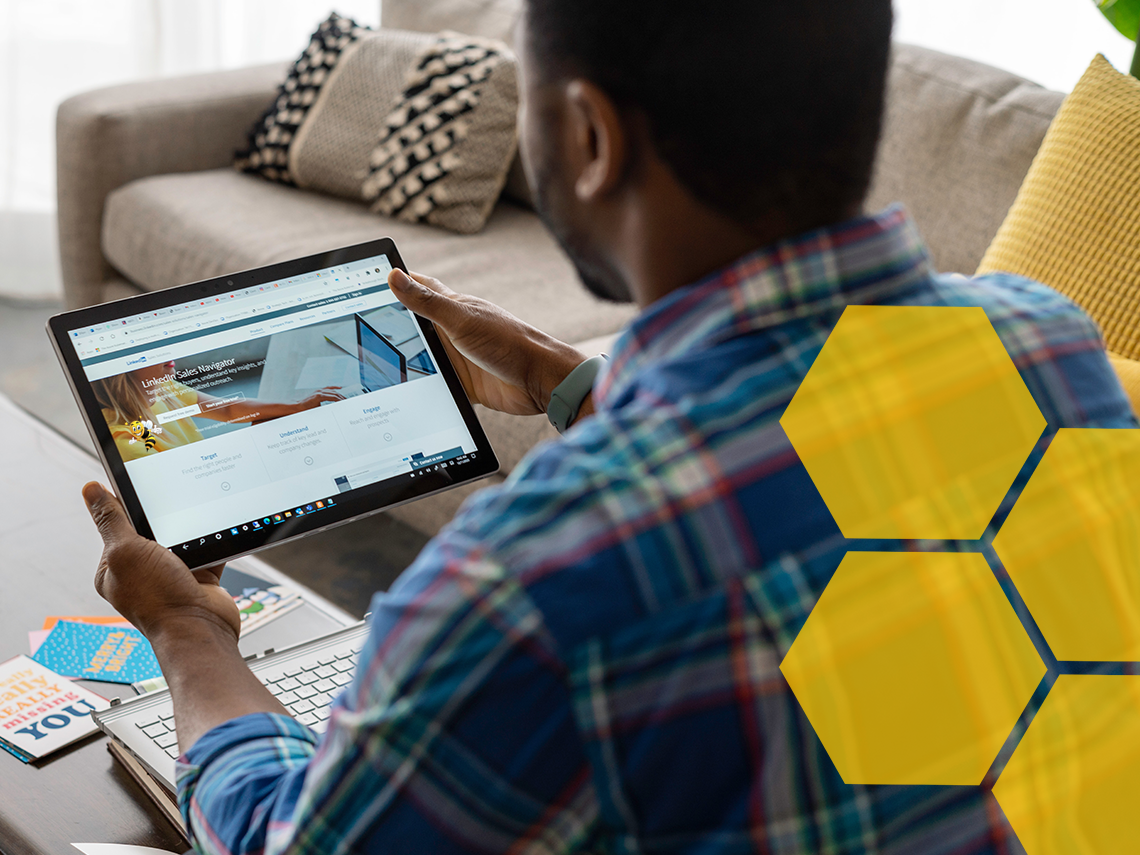 LinkedIn has grown beyond just "Facebook for business" to a powerhouse social media network in their own right.
From 2020 to 2021, LinkedIn's global audience grew from 675 million to a whopping 738 million (source: FinancesOnline) - and this number will only continue to grow.
Keeping both your LinkedIn profile and business page optimized will give you a better chance to maximize your lead generation and increase your overall engagement on the biggest social media platform for business professionals.
If you want to get the most out of LinkedIn, follow these tips to grow your audience in 2022.
Update Your Branding for 2022
Most businesses set their logo and cover photo back when they first create their account, and the same is usually true with your personal profile as well. If it's been longer than 6 months since you refreshed your branding, it's a good idea to update your banner and logo.
You can also use your cover photo to directly promote your business. Do you have a new product or service? Are you running a current promotion? Hosting an event? Got a cool new cert? Your banner should be updated regularly to reflect anything you want to promote.
You can use the banner to promote items such as:
Products
Upcoming or current promotions and events
Artworks catering towards your brand
Awards or certificates to strengthen your brand image
This goes for personal profiles as well - you can use your cover photo to promote your business.
Recommended LinkedIn image sizes for 2022
Personal profile:
Profile photo: 400 x 400px
Cover photo: 1584 x 396px
Business page:
Logo: 300 x 300px
Cover: 1128 x 191 px
Your logo and your banner are the first thing that people see when they come to your page so keeping these optimized and up to date is important. It's like welcoming them at your front door, and you want to have an optimized display to invite them in.
Optimize for Dark Mode
LinkedIn is one of the many social media websites that jumped on the dark mode trend in 2021, giving users the option to change their view across the site on both desktop and mobile.
While the website handles tweaking the background colors and fonts, this change won't optimize images. If you have any profile pictures or cover images with a transparent background, you should take the time to add in a white background manually, otherwise these images may show up oddly in dark mode.
It's important to understand that your logo is what identifies you as a company, and your content helps you establish authority, so making sure that your logo and content are displayed correctly through LinkedIn will boost your brand image overall.
You should also try previewing both your personal profile and business page in dark mode to make sure all your images look good on dark mode as well. If not, you should update your branding to ensure that your profile looks good no matter how users interact with LinkedIn.
Publish Articles Directly to LinkedIn
LinkedIn gives all users the option to post articles using their native publishing tool, but this past year they also rolled out the service to business pages as well.
Publishing on LinkedIn's publishing tool gives your content an extra boost in the algorithm, and a better chance at showing up in search results.
A good way to start is by re-publishing your website's blogs on LinkedIn's publishing tool as your business page. This makes it easy to publish content on LinkedIn without having to write new content.
Should you publish articles on a personal profile or a business profile?
LinkedIn gives you the option to publish all articles on your personal profile or as your business profile. So which one is right? It depends on your business.
Generally, we recommend publishing to the account with more followers. If that's your business profile, then it should be there - but if you have more connections on your personal profile, you should consider that instead. However, you also want to publish to an active account. If you're regularly updating your business profile but your personal page gets left in the dust, then it makes more sense to publish articles to your business profile.
You really should be posting on your personal profile as well, which brings us to...
Empower Key Personal Accounts
Like most social media networks, the specifics of how LinkedIn's algorithm ranks content is proprietary and kept secret...but one thing is abundantly clear about how LinkedIn ranks content: personal profiles have all the power.
While having a strong business page is important, it's just as (or arguably more) important that personal profiles of employees are active on LinkedIn. Now, it's not realistic or feasible for most businesses to have all their employees active, but the CEO/CFO and/or sales team should be active on LinkedIn.
One way to make it easier for employees to engage is to send them notifications whenever your business page posts. On every post your business page puts out, LinkedIn gives you the option to notify employees.
This makes it much easier for your employees to be active on LinkedIn - they can simply re-share your business posts at a minimum. Start with this tactic to keep up some engagement, but if you want to see more out of LinkedIn then employees should actively post content to LinkedIn.
Use Analytics to Improve Your Page
Getting to know your followers and who is engaging with your content on LinkedIn is a useful tip that you can use to further increase your engagement based on what's working with your content.
You need to make sure that your followers align with your target audience, as these are the people you will benefit the most from.
Using the analytics tools within LinkedIn will show you what content is performing, how people are engaging with you, what days they're most active, and other useful information. You'll also be able to keep tabs on who your strongest competitors are within your industry on LinkedIn, allowing you to gauge how your page is doing compared to your competitors.
Currently, LinkedIn analytics is only available to business pages. However, if you have an overlap between people who follow your business page and people who are connected with your personal profile, you can still use the knowledge you get from your business analytics to help inform your personal page content.
Create a New Strategy for 2022
The LinkedIn platform is constantly changing and adding new ways you can market your business.
With new ways to promote yourself, you should be thinking about how you can implement the newer strategies in 2022 like:
Creating polls for topics relevant to your company
Hosting live events
Publishing LinkedIn articles on your page
Joining hashtag conversations
Creating polls for your website will help in your effort to increase engagement among your followers, giving them a chance to give their opinion on topics that matter to you. You can also host live events with different industry insights, client interviews, new promotions, and overall news within your company.
Publishing articles is another great way to spread the word about topics that are important within your business and industry, and it will also help show your authority.
Joining trending hashtag conversions and engaging as your business will help with getting your name and brand to people beyond the scope of your known followers.
Whether you want more engagement, more leads, or just overall better traction on your content, the LinkedIn platform will provide you with the means to success. With the thousands of business professionals worldwide using LinkedIn, optimizing your LinkedIn page is essential for marketing your business effectively in 2022.
* * *
LinkedIn Strategy Guide [Free Guide]
In this guide we will go through some simple yet effective strategies to help you get started with a new LinkedIn page or enhance your current page, from set up to small things that you can do to optimize your page to best fit your business.
LinkedIn Strategy Guide Covers:
✓ Reaching more contacts
✓ Creating engaging content
✓ General set up
✓ Creating a logo and cover photo
✓ Hashtagging
✓ Showcase pages
✓ Building trust with your audience
✓ Additional tips to mastering LinkedIn
---
Need a new digital marketing or web design plan? We are a Minneapolis SEO, digital marketing, social media marketing, web design and HubSpot inbound marketing agency. Stop on by and get started - and while you're here, pick up a free honey stick (yes, we love our bee-related theme).