What I Wish I Knew a Year Ago About Growth-Driven Design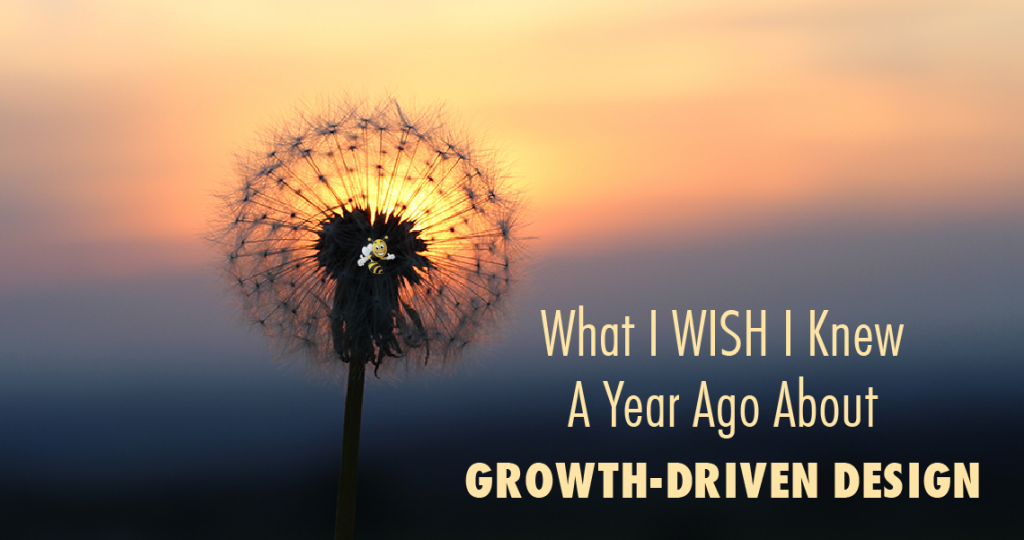 You may have noticed that Growth-Driven Design (GDD) has taken over BizzyWeb. Our latest webinars, our most recent blogs and a good chunk of our social media posts have been spent fawning over this new methodology.
I would be lying if I said that my relationship with GDD has always been so rosy. Like any new process, it takes some time to iron out the kinks and find the right rhythm. If I could go back a year and speak to my 2018 self, there are a few things I would tell him before he began the GDD process.
You Must Give it Time to Grow
One of the biggest initial struggles with Growth-Driven Design is waiting to see the results of all your effort. Give it time and let results generate compound interest. Most of us overestimate what we can accomplish in a year and underestimate what we can accomplish in 5 years. Similarly, it's easy to get frustrated with the process in the early months, but by the time even the first 6 or 9 months goes by it's amazing the results our clients see.
Growth-Driven Design Will Shed Light on Blind Spots, and it Will Be Uncomfortable
GDD will shed light on blind spots in your website and marketing. Often as business owners we think we know everything about our business and what our customers want, when that may not always be true. As we look at our business and the work we've done with clients, some of the results and best wins have come from places we'd never thought to look. Continual testing and hypothesis helps illuminate tactics that you'd never think to try. You may find areas of your site that have been neglected, or things you've been doing "wrong" and that's perfectly normal! The purpose of GDD isn't to assign blame, but to honestly improve the website to the best it can be.
Data is Everything
Learn to love the data. It's a lot of hard work to dig deep into reports, and there's a ton of reporting and information that our team finds for our clients. Careful attention to small trends, or unexpected results for a particular keyword, ad strategy or call-to-action (CTA) tactic can lead to big results. But you really need to pay attention to catch some of the biggest insights. Our team has gotten amazing at finding those needles in haystacks of data. When you first start the process, you may be overwhelmed with the amount of data at your fingertips. It's important to remember your SMART goals and start with the data related most closely to those goals.
You Need to Trust the Process
Sometimes it can be tempting to get discouraged, especially if a favorite or pet tactic (Google Ads, blog posts, social media, etc.) aren't delivering the results you expect. I've learned to just listen to what the data tells us, trust that momentum is building even if it's not an immediate "pop," and to be ready to be surprised.
Growth-Driven Design can be a daunting process, but the end results are well worth all the effort. If I spoke to 2018 Dave, above all else I would tell him to take the plunge into GDD.
* * *
Get Better Results with Growth-Driven Web Design - Free eBook
Growth-Driven Web Design is not only easier on your team and wallet- continuous updates and improvements to your website will keep your customers coming back for more. This free eBook goes over Growth-Driven Web Design and what you need to know to get started.
Download Our FREE Growth-Driven Web Design eBook
Need a new digital marketing or web design plan? We are a Minneapolis SEO, digital marketing, social media marketing, web design and HubSpot inbound marketing agency. Stop on by and get started - and while you're here, pick up a free honey stick (yes, we love our bee-related theme).