What's the difference between SEO and PPC?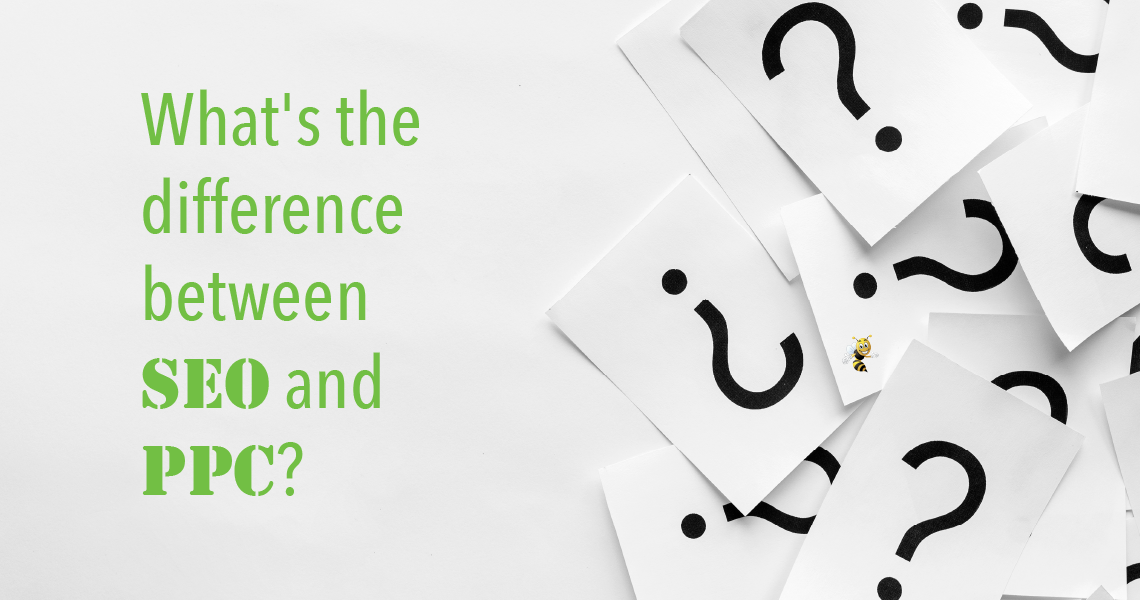 When you first begin your digital marketing strategy, you'll be met with a world of new terminology. What does organic traffic mean? For that matter what is the difference between SEO and PPC? Determining how to best spend your time and money begins with understanding these terms and how they influence your customers and impact your business.
What is SEO?
Search Engine Optimization, or SEO, is the process of increasing both the quality and quantity of traffic to your website through organic search. For most, this means optimizing content to the latest Google standards. The first thing people do when they are looking for information or a business is search online, and most people use Google. By thoughtfully creating content that Google can easily read and rank, you will boost your page rankings and thereby increase traffic to your site.
Google has created algorithms that determine the intent of online content and displays results based on a ranking system. Therefore, content has to be intentional. Gone are the days of adding as many keywords as possible, because Google is smarter than that and will rank your page lower if you stuff too many keywords into a page. In a practical sense, this means pages with strategic wording and messaging have a higher ranking and maximize conversions.
This strategy doesn't have any cost associated with it - outside of labor/expertise if you hire an agency to do SEO work for your business.
What is PPC?
PPC advertising, or pay per click, is an online marketing tool based around ads. Two of the most popular platforms for PPC ads are Facebook and Google.
Facebook is a social media platform that uses user interests to show ads. Instead of typing in a specific keyword, Facebook analyzes a user's demographic information, their likes and their online activity to decide the relevant ads to show them. An advertiser selects the type of person they want to show their ads to (for example, women in their 20s who live near a metro area and like to shop online) and Facebook matches the ad to the user.
Google AdWords is a paid search platform, which means it relies on user intent to show ads. When a user types something into Google, ads appears above and below the search results that are related to that keyword. An advertiser selects the keywords they want to run ads for. This is where many people confuse PPC and SEO, since they both involve search engines and keywords.
The Relationship Between PPC and SEO
SEO and PPC are different, but they're both parts of a larger marketing strategy. It is best if organic traffic is the primary driver of traffic to your site, and PPC acts as a promotional tool for specials, seasonal, and timely messaging.
However, these two strategies can work together for optimal results. You can take data from your PPC campaigns to help refine your SEO:
Which keywords do people engage with?
Do they explore your website after clicking on an ad, and where do they go?
Additionally, you can test your keywords with PPC to see what brings immediate results and use that data to decide your SEO keyword strategy.
In short, your SEO is the larger time investment that pays off in increased free traffic, while any PPC you choose to invest in is an expense to drive immediate traffic.
* * *
Get Better Results with Growth-Driven Web Design - Free eBook
Growth-Driven Web Design is not only easier on your team and wallet- continuous updates and improvements to your website will keep your customers coming back for more. This free eBook goes over Growth-Driven Web Design and what you need to know to get started.
Download Our FREE Growth-Driven Web Design eBook
Need a new digital marketing or web design plan? We are a Minneapolis SEO, digital marketing, social media marketing, web design and HubSpot inbound marketing agency. We specialize in inbound marketing and Growth-Driven Design. We're located just outside of Minneapolis. Stop on by and get started - and while you're here, pick up a free honey stick (yes, we love our bee-related theme).