Top 3 Reasons You Need Growth-Driven Design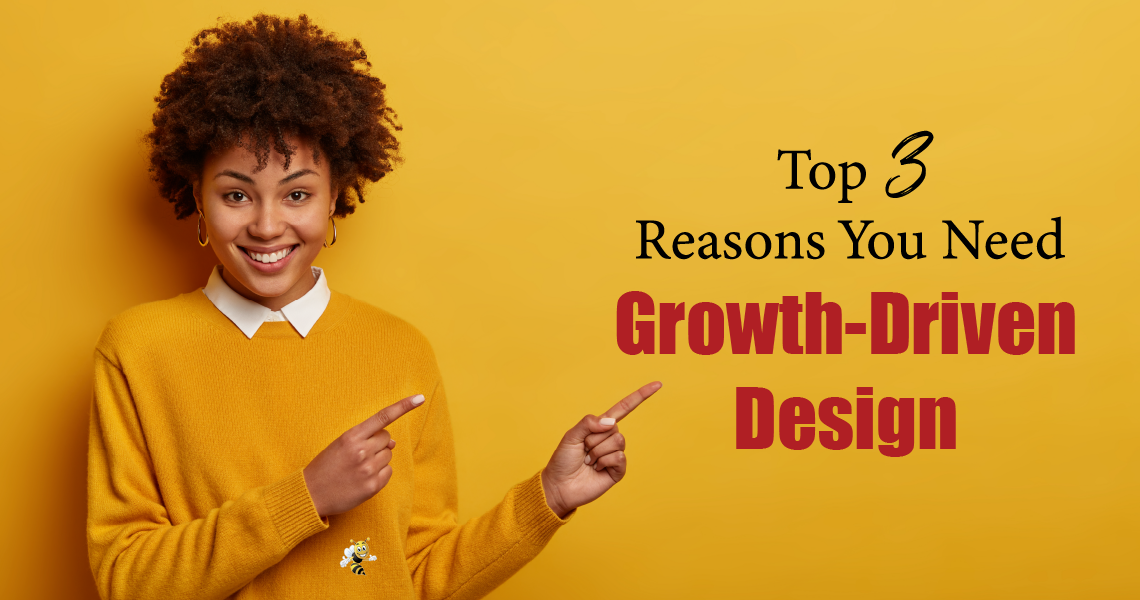 2012 was a great year. The world didn't end. Marvel's The Avengers was released. We saw the transit of Venus for the last time until 2117. But if your website was last redesigned in 2012, that's anything but great.
Traditional web design is broken. The struggle with traditional design is that almost immediately after a site is launched, the design and content begins to grow stale. The internet is an ever-evolving beast, and when your site doesn't evolve along with it, it ages quickly. That's where Growth-Driven Web Design (GDD) comes in.
With Growth-Driven Web Design, your website is never left stagnant. Instead of a "set it and forget it" approach, GDD focuses on making continuous improvements to your website to increase usability and conversions.
Here are the top 3 reasons why you should consider switching from the traditional web design model to Growth-Driven Web Design: it's dynamic, it's faster and it's data-driven.
1. It's Dynamic
Growth-Driven Web Design is a powerful new approach to web design. Instead of front-loading web design with a costly and lengthy new design, Growth-Driven Web Design treats your website like a living entity and focuses on substantive, impactful updates spread throughout a year.
Traditional Web Design

High upfront dollar and time investment
Processes often runs late and over budget because of unforeseen obstacles
Built on opinions, not research
Forgotten after launch

Growth-Driven Web Design

Cost spread out over smaller monthly investment
Launch a functional, yet smaller-scale, site quickly
Continuously make impactful improvements based on user data
Site is never stagnant and changes to match updates in Google and SEO strategies
2. It's Faster
Growth-Driven Web Design works by creating a functional "launch pad" website that looks great and is based on your customers' needs, but that's smaller-scale and launches quickly – typically in 1-3 months versus the 6-12 month timetable of traditional web design. It's a simple 3 step process:
1.

STRATEGY

2.

LAUNCH PAD

3. CONTINUOUS IMPROVEMENT

10-14 Days
60-90 Days
14-Day Sprints

Create a plan for your website to solve problems for your users.




Business and website goals

User experience(UX) research

Jobs to be done

Fundamental assumptions

Buyer Personas

Journey mapping

Global strategy

Brainstorm wish list

Keyword/content plan

Competitive analysis

Quickly build a website that's better than what you have today, but isn't a final product. Rather, your Launch Pad is the foundation to grow, optimize and build from.

Customize an acceleration approach

Run sprint workshops

Effective content development

Invest in internal efficiencies

With your Launch Pad website live and collecting data, we'll start identifying high-impact actions to grow your business.
The action doesn't stop once your website is live. With GDD, you actively track users' actions when they visit your site and make additions, changes and improvements based on that data. Growth-Driven Web Design will take your website to the next level by improving over time, giving your customers what they're looking for without draining your internal resources. Using data to make decisions is less risky, and with your website continually improving, your customers will want to come back for more.
Interested in GDD, but need more convincing? We understand. Download our FREE e-book below.
* * *
Get Better Results with Growth-Driven Web Design - Free eBook
Growth-Driven Web Design is not only easier on your team and wallet- continuous updates and improvements to your website will keep your customers coming back for more. This free eBook goes over Growth-Driven Web Design and what you need to know to get started.
Download Our FREE Growth-Driven Web Design eBook
BizzyWeb is a Minneapolis-based digital marketing and web design agency that helps companies get the high-quality leads they need to grow and thrive. Our tactics include inbound marketing, SEO, advertising, web design, content creation and sales automation. We are an accredited HubSpot Platinum Partner and we offer full-service HubSpot onboarding, enablement and strategy for new and current users.