5 ChatSpot AI Prompts to Try
With all the buzz around AI, it's easy to get overwhelmed. Especially when it seems like every company is releasing its own new AI tool. So of course, HubSpot has one too - well, actually, they have several. But our focus today is ChatSpot: HubSpot's free-standing AI tool.
While it might be easy to ignore ChatSpot along with the flood of new AI tools, I'm going to show you why ChatSpot is worth using. It's a unique tool in the AI space because it lets you gather data specific to your sales and marketing efforts quickly.
What is ChatSpot?
ChatSpot is an AI-powered sales and marketing assistant designed for businesses. It's powered by ChatGPT, but what makes ChatSpot different from other generative AI tools is that it connects to your current HubSpot account, to tap into your specific sales, marketing and customer service data.
ChatGPT can only provide business-specific based on what information you give it: ChatSpot connects into your Hubspot CRM and portal to give you specific data. This integration makes it not only useful for content generation but also for automating queries that might take several clicks in HubSpot to answer.
For example, ask ChatSpot "What are my current open leads?" and it will generate a list, vs manually logging into your HubSpot portal, navigating to dashboards, opening the right dashboard and looking for a specific report.
Like every other AI tool, you need to write your prompts in the best way for the system to understand - which requires a bit of experimentation to pinpoint. That's why I've rounded up some recommended prompts below, sculpted to get you the intended results.
Is ChatSpot Only for HubSpot Users?
No, you do not need to be a current HubSpot customer to use ChatSpot. That said, if you aren't a current customer you won't be able to use any prompts that tie directly into your CRM - so for example, it can't give you data on your leads, contacts or marketing efforts.
Any prompt that doesn't rely on your specific CRM data - like generating content - you'll be able to use without restriction. Remember that the tool is designed with business use in mind. It won't do a great job giving you descriptions of aliens for your sci-fi novella, but it will give you great ideas for blog titles or sales emails.
ChatSpot Capabilities and Limitations
Before you start playing with ChatSpot, it's helpful to have some frame of reference of what it can - and can't - do.
CAPABILITIES
Tailored for business: Templates provide a guided experience; results are formatted for business use & quick actions let you go deeper with a click.
Secure: Data is not used to train models & CRM data is never shared with 3rd parties.
Business Insights: Gather insights on competition, prospects, and SEO rankings using private data sources.
LIMITATIONS
Memory: Does not remember or reference previous messages in a thread.
Still learning: May not understand or deliver results for all prompts & cannot access all data in your CRM
Language: Performs best in English, results in other languages may vary
5 Chatspot AI Prompts to Try
For this list, I'm focusing on prompts that are unique to ChatSpot. It can also tackle a wide variety of generative content prompts, like "write an email that..." or "create a blog title for...". While those tools are useful, they're also available in most generative AI platforms. What isn't available are the unique data insights ChatSpot offers.
1. "Go to app: [insert desired location]"
HubSpot is an incredibly dense platform, and it can be challenging to remember exactly where to go to find what you're looking for. By using the "go to app" prompt, you can input a desired end location and ChatSpot will tell you exactly how to get there in your portal.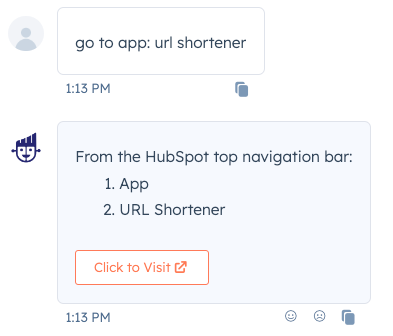 You can use this for specific tools (like the URL shortener in the screenshot above) or areas of your HubSpot portal - like "go to app: create a marketing email."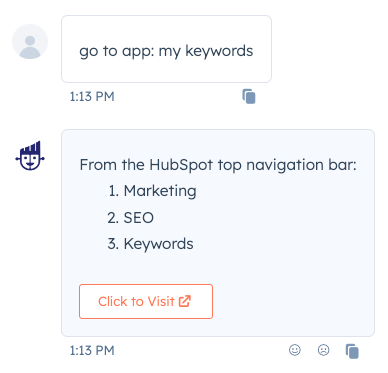 This is a great resource to share with your teams as well, who may not be experts in HubSpot but still need to use the system.
2. "Find [contact/company] where [contact or company property] is/is not [property name]"
The find prompt in ChatSpot is an excellent way of finding gaps in your data. One of the ways our team likes to use it is to identify missing contact properties or leads who are missing an owner.
For example: "find contacts where Lifecycle Stage is Sales Qualified Lead and Owner is Empty" pulls up a list of all SQLs that are missing an assigned salesperson.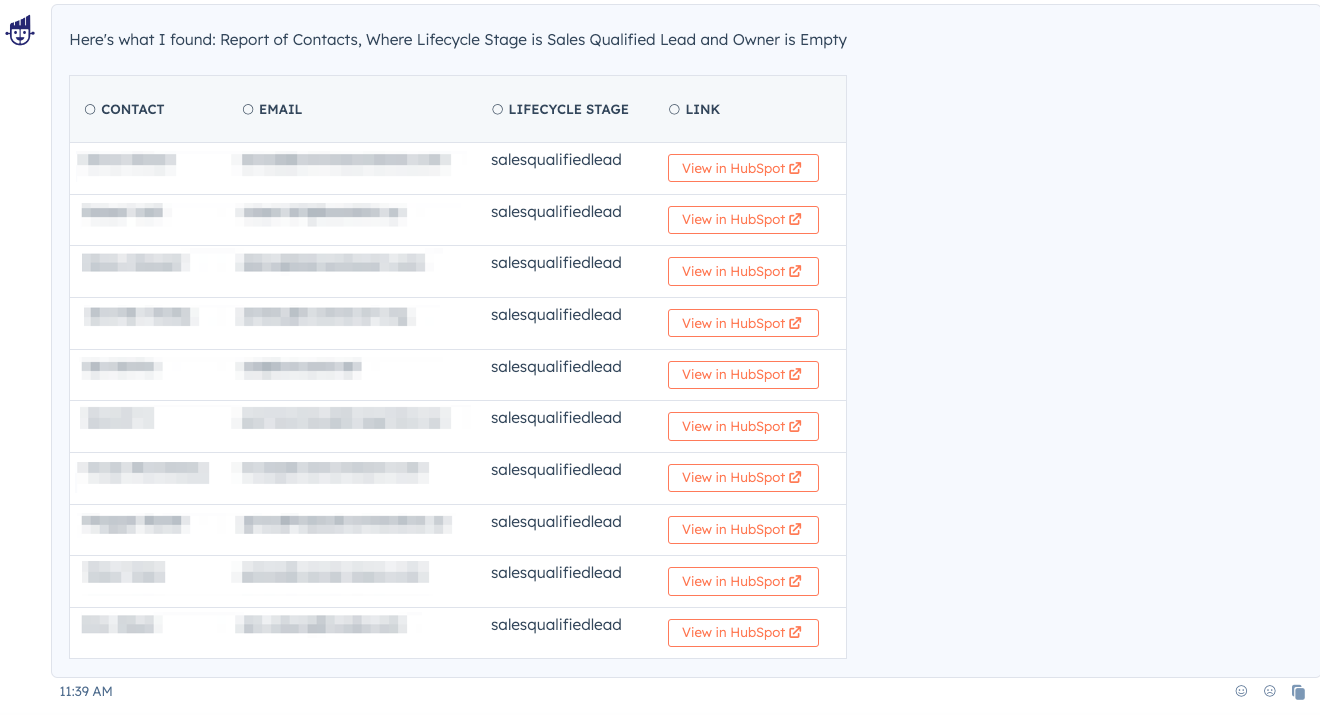 You can use this same formula to identify any gaps in your data.
3. "Compare tickets..."
This prompt is useful for service teams and managers to analyze flow and support volume at a high level. The simplest variation is to just look at the volume of service tickets month over month.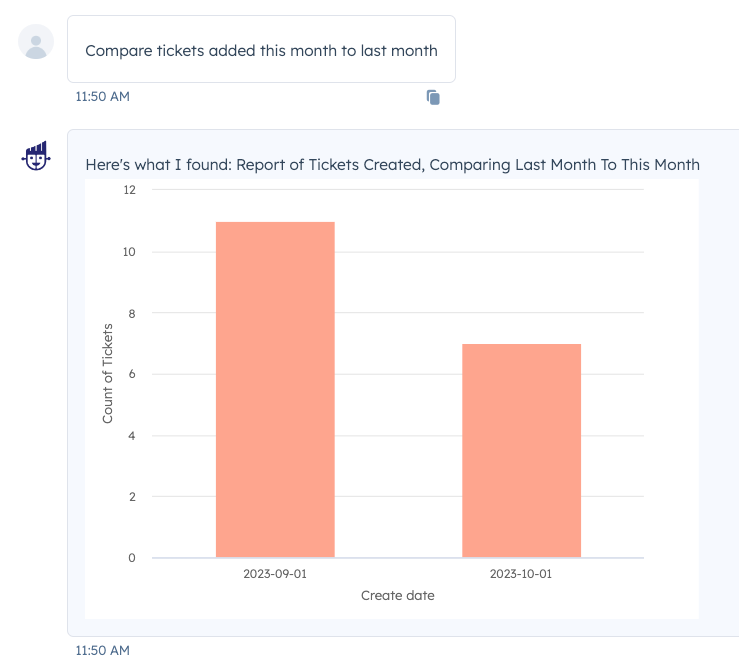 To make it even more specific, you can change the date range to week or day, and look at specific team member(s) ticket volumes. This makes it easy to see at a glance how many tickets are coming in, if the volume is increasing and how they're being assigned to team members.
4. "Discover companies..."
This is an extremely powerful prompt for research. Use this prompt to find companies in a specific niche so that you can start prospecting. To get the most out of this prompt, make it more specific by adding on any of the following: [age] [size] [industry] [location] [technology]

ChatSpot will provide you a list of companies that meet your criteria, and give you further options to research or add to your HubSpot CRM. I highly recommend clicking the "research" button - you'll get a quick reference list about that company that's useful for following up.
As a 4.5 prompt - after you identify a company you want to reach out to, use the prompt: "technology used [company url]" to get a list of the online tools that businesses uses. This comes in handy for SaaS or B2B organizations.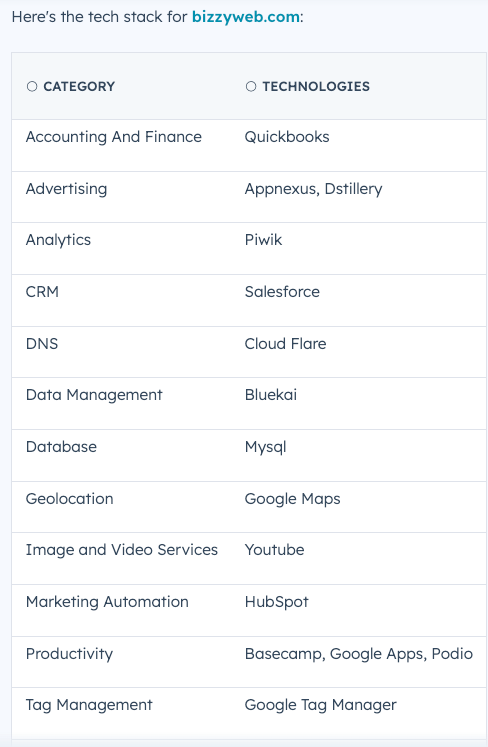 5. "Summarize [company/contact]: [insert name]"
This is where ChatSpot's integration with your HubSpot portal really shines. Use the "summarize" prompt to get a quick overview of the latest activity associated with that company or contact.

This can be extremely helpful if you're looking for high-level information like "When did we last reach out to this contact?" or "Has anyone from this company visited our website?" From there, you can access the full record in HubSpot for more details.
ChatSpot is a nifty AI tool that connects your HubSpot CRM with the power of ChatGPT to provide bite-sized data insights in seconds. These prompts will help you get started with ChatSpot, but the possibilities are endless. What uses will you discover?
Get the Most out of HubSpot Pro with a HubSpot Partner Agency
HubSpot is a significant investment that makes attribution reporting easy. If not implemented and used properly, you're not getting the most out of this powerful tool. You can go it alone, but working with a HubSpot partner agency means that you don't need to become an expert in HubSpot to get up and running.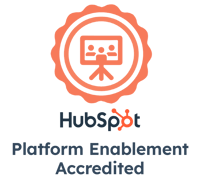 BizzyWeb is a HubSpot Platinum Partner and we offer full-service HubSpot onboarding, enablement and strategy for all hubs. Our team has over 196 certifications in HubSpot (and constantly growing). No matter what your HubSpot needs are, our team is ready to handle them.
Plus, we are the only agency in Minnesota with a Platform Enablement Accreditation from HubSpot - sounds fancy, but it means we're top-notch in making HubSpot work within your business.
---
BizzyWeb is a Minneapolis-based digital marketing and web design agency that helps companies get the high-quality leads they need to grow and thrive. Our tactics include inbound marketing, SEO, advertising, web design, content creation and sales automation. We are an accredited HubSpot Platinum Partner and we offer full-service HubSpot onboarding, enablement and strategy for new and current users.