Download Now: The Beginner's Guide to Inbound Marketing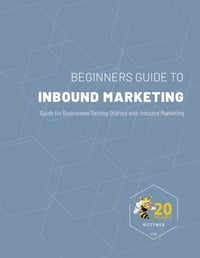 You can put your brand in front of a million people, but if they're not the right audience, you won't get a single sale. Successful inbound marketing is about generating quality leads, not just fluff.
This step-by-step guide will introduce you to the inbound marketing methodology:
What is inbound marketing

How inbound marketing differs from traditional marketing methods

How to set SMART goals

Where to find your ideal customers online

How to create an inbound marketing campaign

Measuring success and ROI
If you're ready to take your marketing from a numbers game into something that actually drives revenue, download the guide.
Why Inbound Marketing?
Inbound marketing is a complete reversal of the traditional marketing strategy of getting your brand in front of as many people as possible, in case 1 or 2 bite. Inbound marketing is reaching out directly to your perfect audience to make them not just customers, but also evangelicals for your brand.
The end result? Better leads, engaged customers and an audience that markets your brand for you.
Curious how it works and how to get started? Download the eBook.