How to Clap Back at Trolls (Without Losing Customers)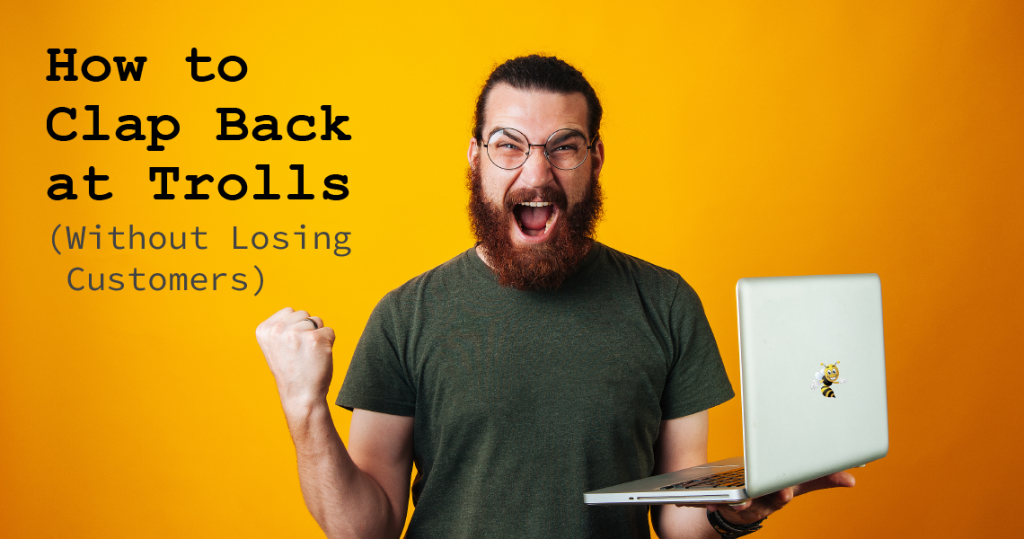 Two things online are certain: cat pictures will always get shares and trolls are gonna troll. There are many business that have taken a massive hit after a troll encounter - sometimes because the business owner responds so poorly it goes viral.
The Internet has created a new psychology called the Online Disinhibition Effect, which is the loosening of social restrictions and inhibitions that people would normally experience in face-to-face interactions. Trolls feel like they are just "talking" to their computer, and they will voice opinions in an angry, frustrated way. They primarily do this for amusement, out of boredom, a desire for revenge or simple frustration. They often have a lack of guilt and empathy. To understand them better, "Don't Feed the Haters: The Confessions of a Former Troll" gives you a sneak peek into the mind of a former troll.
When the trolls come trolling, it's hard to know what to do. The best way to prepare is to educate yourself ahead of time.
How to Identify a Troll
There are two types of Internet Trolls:
Intentional Trolls: thrive on the anonymity the Internet provides and deliberately aim to ruin online conversations to achieve their desired fallout.
Unintentional Trolls: don't consider themselves trolls; however, by questioning others' intelligence or by masking negative remarks they unintentionally disrupt threads, turning thoughtful discussions into insult battles.
Identification can be tricky – because an angry customer with a legitimate issue isn't always a troll. Trolls typically:
Post irrelevant content or things that didn't happen
Have a lower writing quality
Are trying to get a reaction out of someone - generally attacking a person, as opposed to a situation
They don't quit and the posts gets worse over time
Continue to engage or complain even after a solution is offered
What if it's not a troll (or I can't tell?)
Most times you can spot a troll immediately. However, if you can't tell if it's sometime trying to just get a rise or if it's a customer with a genuine complaint, you should first treat them with respect and respond like you would any negative review. Even if the reviewer is spouting off incorrect information, you should respond the same:
Thank them for the review, and apologize for their experience.
Offer to take it offline to help them. (e.g., "We're sorry for your experience. Please message us your story at support@website.com and we'll try and make this right.")
It's up to the reviewer if they want to take you up on your offer, but this puts the ball back in their court. It also shows potential customers that you don't ignore criticism and actively try to make things right. If the person isn't a troll, they likely want their issue to be resolved and will take you up on your offer.
How to Deal With a Troll
If you've got an actual troll on your hands, it's time to tread carefully. There are many methodologies on dealing with internet trolls. Some people say to confront them, some suggest using humor, and others try to erase posts.
BizzyWeb recommends that you take the high road – read the comments, take a step back and take a breath to take the emotion out of the situation, and then:
Monitor what people are saying about your company online
Engage with the contact first - tell them you're listening
Resolve the situation offline if possible
Ignore if the trolls continues to engage
Report the harassment if it occurs on social media
Make sure that you respond with honesty, integrity and authenticity. Keep the conversation a business conversation, with less emotion and try to take the conversation offline to resolve it as quickly as possible. If a troll shows no signs of backing down and continues to post, your best strategy might be to simply ignore them and wait for it to blow over (as difficult as it might be). If you've responded empathetically and the troll continues to fight, it's clear at that point the troll just wants attention. Let your troll tire themselves out.
What if the troll doesn't stop?
If the harassment continues over an extended period of time and occurs on social media, in many cases you have the option to block the troll. If the harassment is coming to your website, contact your IT department to block the troll's IP address. And in an extreme case of harassment, you can go to the authorities. However in most cases, a troll will quickly get bored once you stop engaging and move on.
If trolls come knocking, people want to see how you deal with them and what you try to do to make it better. If the person still is frustrated with the outcome, people online can see that you tried to make it better. Fighting back can be a recipe for disaster - it's very easy to post something that will negatively impact your business when you're emotional. Remember – you can attract more flies with honey than with vinegar.
* * *
Free Download: The Beginner's Guide to Digital Marketing
If you want to grow in 2021, now's the time to iron out your marketing plan. To be prepared for budgeting this season, there should really be a digital strategy in place to aid your company in reaching their goals. In this guide, we're going to walk you through everything you need to create a solid marketing plan.
In this download you'll learn how to:
Set achievable goals for 2021
Find your ideal customer and create buyer personas
Align your branding and marketing
Analyze your competitors online
Measure digital marketing success
Execute effective digital marketing tactics


---
BizzyWeb is a Minneapolis-based digital marketing and web design agency that helps companies get the high-quality leads they need to grow and thrive. Our tactics include inbound marketing, SEO, advertising, web design, content creation and sales automation. We are an accredited HubSpot Platinum Partner and we offer full-service HubSpot onboarding, enablement and strategy for new and current users.