How to Use PPC to Supercharge Your Inbound Marketing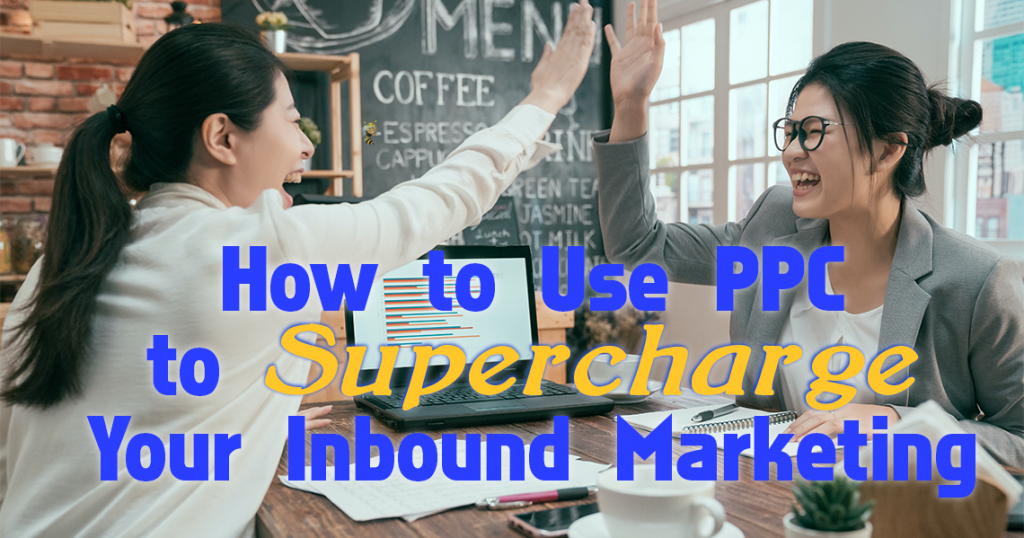 Getting more leads is usually the goal of any marketing program, but how to get those leads is the million dollar question. A highly effective approach is to combine inbound marketing and pay-per-click advertising (PPC) to get the maximum amount of high-quality leads.
What is Inbound Marketing?
Inbound marketing is customer-oriented and customer-driven. Simply put, inbound marketing starts with valuable content that your target audience wants, instead of just advertising your services.
In a traditional marketing model, you would simply "spread the word" about your business through print or online ads.
With inbound marketing, you instead focus on providing valuable information or items your customers can use. For example, you might start with an ebook, a quiz, a checklist or a blog that your ideal customer might find useful.
You dangle that content offer to get nibbles in exchange for a form fill or phone call, and then follow-up with more direct marketing.
What is PPC?
PPC advertising, or pay per click, is an online marketing tool based around ads. Two of the most popular platforms for PPC ads are Facebook and Google.
Facebook is a social media platform that uses user interests to show ads. Instead of typing in a specific keyword, Facebook analyzes a user's demographic information, their likes and their online activity to decide the relevant ads to show them. An advertiser selects the type of person they want to show their ads to (for example, women in their 20s who live near a metro area and like to shop online) and Facebook matches the ad to the user.
Google AdWords is a paid search platform, which means it relies on user intent to show ads. When a user types something into Google, ads appears above and below the search results that are related to that keyword. An advertiser selects the keywords they want to run ads for. This is where many people confuse PPC and SEO, since they both involve search engines and keywords.
These are just the two most popular platforms for PPC, but there are many options.
How to Use PPC with Inbound Marketing
While inbound marketing is more value-based than traditional marketing, you still need to get eyeballs on it for any chance of conversion.
PPC allows you to promote your inbound asset to reach your ideal audience. Using tools like Google's Keywords planner or the targeting tools in Facebook and other social media platforms, you can fine-tune your ad scope based around your inbound marketing asset.
PPC can also be used to throw fuel onto a fire of an existing inbound marketing campaign. If you aren't getting the leads you wanted, using PPC is a great way to broaden your audience and reach people who have never heard of your business.
* * *
Calculate the Number of Leads You Need to Hit Your Revenue Targets
BizzyWeb has created a Lead Calculator you can use any time you need to get to the actual number of leads needed to accomplish your goals through marketing.

We will give you easy-to-understand monthly numbers that will translate into web traffic to meet your needs. This is an easy way to set your SMART Goals!
YOU WILL BE ABLE TO CALCULATE:
✓ How many visitors you need each month to reach your goals
✓ How many new leads you need a month
✓ How many of those leads need to become customers
Need a new digital marketing or web design plan? We are a Minneapolis SEO, digital marketing, social media marketing, web design and HubSpot inbound marketing agency. Stop on by and get started – and while you're here, pick up a free honey stick (yes, we love our bee-related theme).