Why You Should Automate Your Inbound Marketing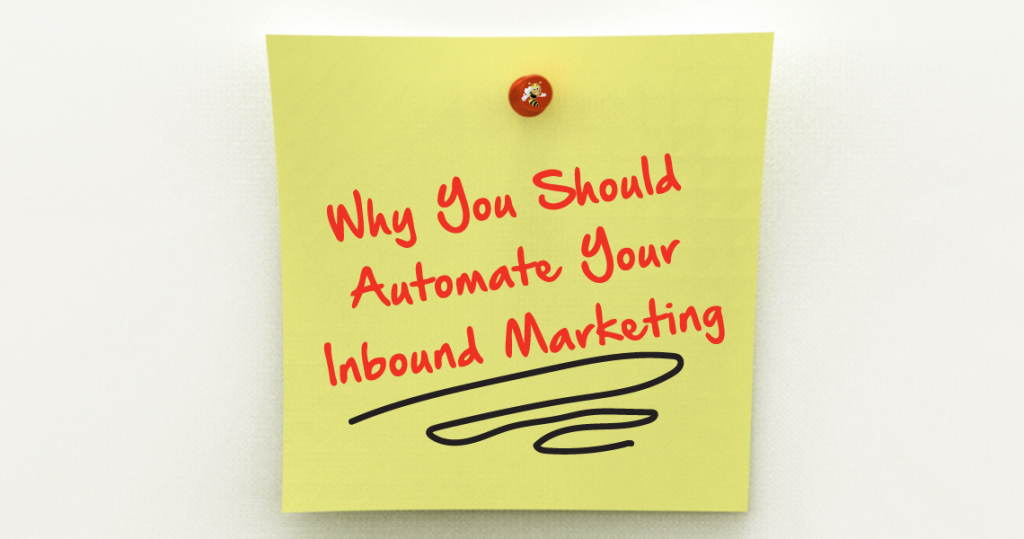 What would you do if you had more time in your day? If you're wasting time manually chasing down leads, it's time to free up more time for yourself by automating your inbound marketing. Below are just some of the reasons why automating your marketing is a benefit.
1. Efficiency
One of the key benefits of automation is how much time it frees up for your team. Instead of spending hours manually writing emails for follow-up, your team can create automations that handle that work. When they're not spending time on busy work, your team can spend more time on creative work that moves your needle forward.
2. Marketing and Sales Alignment
Automation makes it much easier to ensure that sales and marketing are on the same page. If you use the same software to automate both sales and marketing processes, it's simple to create crossovers between the two. In fact, marketing automation can lead to a 14.5% increase in sales productivity and a 12.2% reduction in marketing overhead.
3. Increase Conversion Rate
Automation helps you manage your leads more effectively, which can lead to a higher conversion rate. By creating automation, you give your leads more chances to engage with your team instead of needing to chase them down. You can create special automation for leads who are reluctant to convert, which can increase your conversion rate optimization.
4. Accurate Reporting
Using an automation platform is not only beneficial for creating automations, but also for tracking them. You can easily see where leads are (or aren't) engaging. There's also further opportunity for automation - most automation platforms will give you the power to create automatic report that are emailed to you. This makes it even faster to pull data.
5. Personalized Marketing Strategy
With automation, you can target your personas with specific, relevant content. For example, if a lead reads a blog post about sales conferences you can use this data to send them an email inviting them to a sales conference your team is hosting. People like content that speaks to them - targeting your lead with personalized content leads to a stronger conversion rate.
6. Lead Scoring
Marketing automation software is a great way to automate tasks like lead scoring. You can set up lead scoring so that your sales team is automatically notified when a lead goes from marketing qualified to sales qualified. This helps your marketing and sales teams be more aligned, while also reducing the amount of time sales needs to spend manually checking in on leads.
7. Data Management
Because marketing automation software tracks your leads' activity, it means all their data is stored in one place. It's easy to look at high-level trends or deep dive into a specific contact. This information can then help your team know what your audience is interested in, so they can create marketing materials and email follow-ups that reflect that data.
8. Scalable Process
It's important when creating new processes to keep your goals and future in mind. Creating automations now allows you to create processes that are more easily scalable in the future. The more manual a process is, the harder it is to scale. Automation makes this simpler.
9. Lead Nurturing
One of the core benefits of automation is lead nurturing. This is a process of continuously staying in touch with your leads and nurturing them through the stages of your sales process. Using a marketing automation software, you can create follow-up emails that keep you top of mind for your leads.
* * *
Free Guide: The Beginner's Guide to Inbound Marketing
All you have to do is follow the guide! Download the The Beginner's Guide to Inbound Marketing to get started!
In this download you'll find:
A step-by-step guide on how to create an inbound marketing strategy, including building buyer personas and setting SMART goals
Sample lead magnets to use in your inbound marketing campaigns
Step-by-step instructions to create a lead capture form
A checklist for creating an effective landing page
Instructions for building automated emails
Actionable tips for marketing your campaign to a new audience
Steps for optimizing your campaign for search engines


---
BizzyWeb is a Minneapolis-based digital marketing and web design agency that helps companies get the high-quality leads they need to grow and thrive. Our tactics include inbound marketing, SEO, advertising, web design, content creation and sales automation. We are an accredited HubSpot Platinum Partner and we offer full-service HubSpot onboarding, enablement and strategy for new and current users.