How many years have you been in marketing (or doing what you're doing)?
I've been working in the design industry for fifteen years, but this is the beginning of my journey working for a company rather than as a freelance agent. It's been a great new adventure to work with the amazing team at BizzyWeb.
What industries have you worked in?
I have worked in the service industry as a restaurant manager, bartender and server (and everything in between) for over a decade – both in the Twin Cities and in Salt Lake City. I also worked as the Head Artist at Trader Joe's for many years and helped open a handful of locations in the metro area.
What talents do you have?
I am a word nerd – a stickler for grammar. I love language(s).
I am a dabbler in many artistic things: glass etching, alcohol ink pours, sewing, painting - both giant and tiny scales, book binding, photography (specifically instant film), jewelry-making, wood burning, stencil creation… and the list goes on. My media tool of choice is a Sharpie. I love learning new things and am constantly finding fresh projects to try.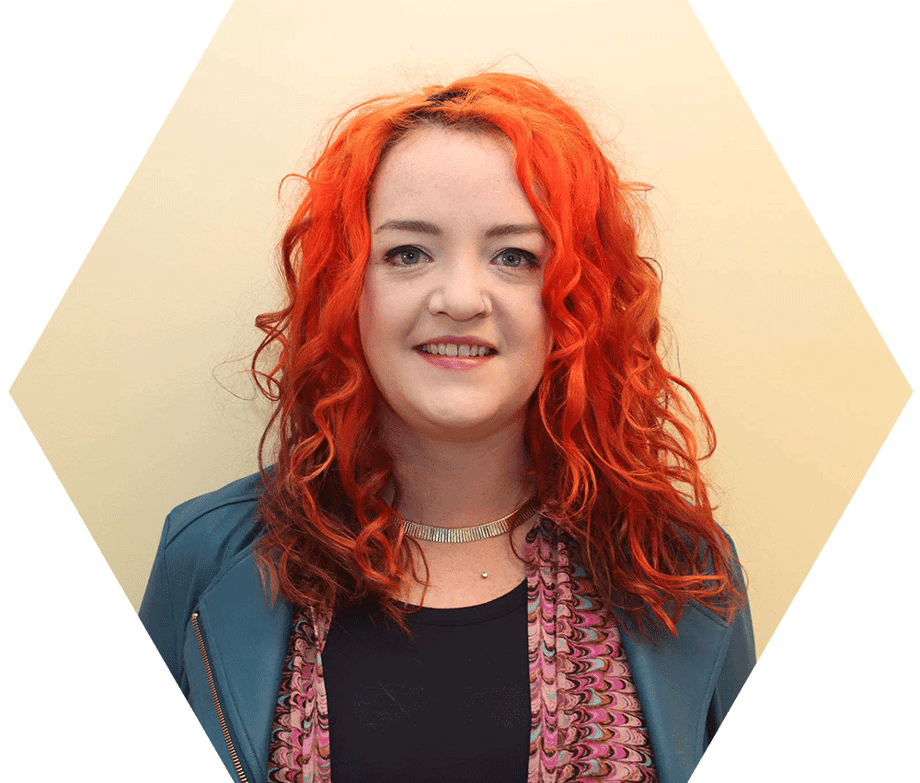 What outside interests do you have?
I love sketching, drawing, calligraphy and painting. I am somewhat guilty of having far too many hobbies and projects going. In the summer I grow tomatoes, herbs and veggies and take my cats, nieces and nephews on walks. I love sending snail mail and all 2-D correspondence.
What is your favorite movie line?
It's like you come onto this planet with a crayon box. Now you may get the 8 pack, you may get the 16 pack, but it's all in what you do with the crayons - the colors - that you're given. Don't worry about coloring within the lines or coloring outside the lines. I say color outside the lines, you know what I mean? Color all over the page.
- Waking Life
What is the Buzz about you (accolades or certifications)?
Education: University of Minnesota: BA in Fine Arts, BA in English, Education: Springboard: UX/UI Certificate
HubSpot Certifications: Client Management, Digital Marketing, Growth Driven Design, Inbound, Inbound Marketing, SEO, Social Media Marketing
Why do you like working here?
BizzyWeb's culture is second to none; the collaboration and support at this company creates an environment that nurtures its core values: integrity, fun and education.
What gets you up in the morning?
My cats punching my face wanting me to get involved in their schemes and antics. On a work related note, I am excited to start my day working alongside my innovative BizzyWeb teammates.
What is your BuzzWord?
Funky-fresh
Favorite candy bar
Reese's