5 HubSpot Sales Dashboard Templates to Try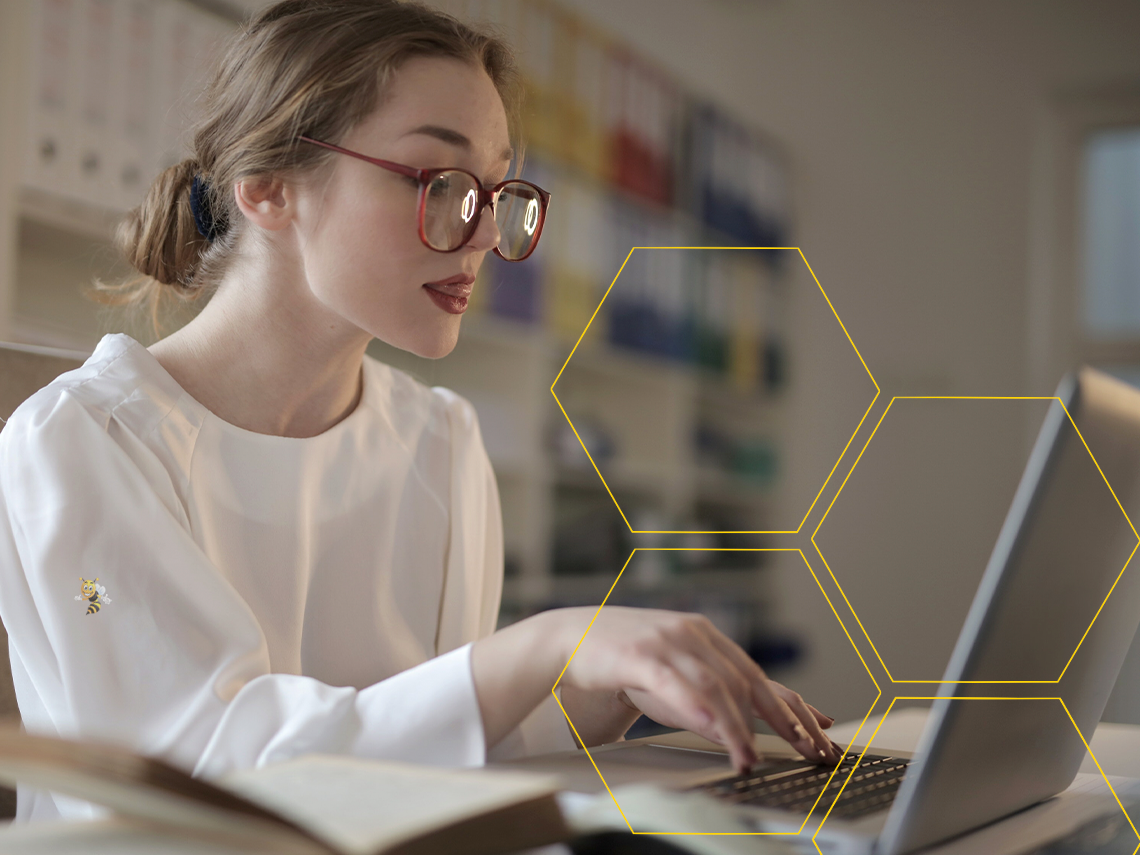 Data is important - but the right data is critical. With the overwhelming number of options for data tracking in HubSpot, it's hard to know where to even start.
We've got you covered- if you're a sales rep or a sales manager looking for valuable data reporting, you'll want to try these 5 HubSpot sales dashboard templates.
What is a Sales Dashboard?
A sales dashboard is a visual representation of your sales data. As a salesperson, you can filter information using different time periods and even pull in real-time data with some sales dashboards.
- via HubSpot
Every dashboard below only includes reports that come with HubSpot in the reports library. No custom reporting needed! Make your new dashboard, plug in the reports listed in each template and bam - you've got a high-value, easy-to-read sales dashboard ready to go.
→ Need a refresher on how to make a dashboard? Follow this guide.
1. Target Accounts Overview
This template is designed for sales reps who need an overview of the Target Accounts owned by them. It lets them get a quick view of which target accounts last took an action (and what they did), last touch base with a salesperson and who the decision maker is at each target account.
Reports to Add to This Dashboard:
Target accounts by time last seen

Target accounts by recent conversion

Target accounts by sales activity dates




Target accounts with no decision maker

Target accounts with no buying roles
2. High-Level View of Sales Activities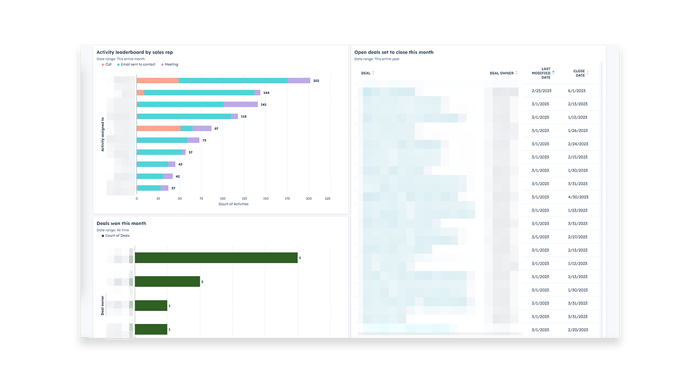 This template is designed for sales managers and management who want a high-level overview of sales activities, open deals, timelines for closing deals and deal values. It will give you a nice look at your overall sales performance so you can compare it against your goals.
Reports to Add to This Dashboard:
Activity Leaderboard by Sales Rep
New Deals Created This Month
Open Deals Set to Close This Month
Average Deal Size This Year
Deals Won & Lost This Year
Deal Loss Reasons This Year
3. Completion/Task Tracking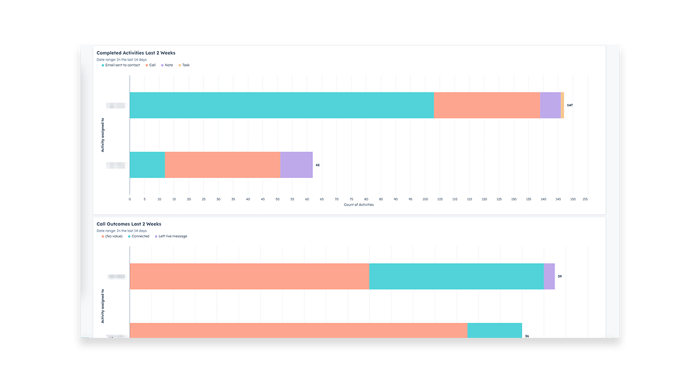 This template is designed for sales reps, sales managers and management to track the completion of deals and tasks. This goes more in-depth than the previous report, for more detailed data and performance tracking. Our template is based on a 2-week cycle, but you can use any timeline you want for this data.
Reports to Add to This Dashboard:
Completed Activities Last 2 Weeks
Call Outcomes Last 2 Weeks

Tasks Completed Last 2 Weeks
Tasks Completed This Month
Time Spent in Deal Stage Last Quarter
Time in Deal Stage This Quarter
Deal Push Rate This Month
Deal Push Rate this Quarter
4. Account-Based Marketing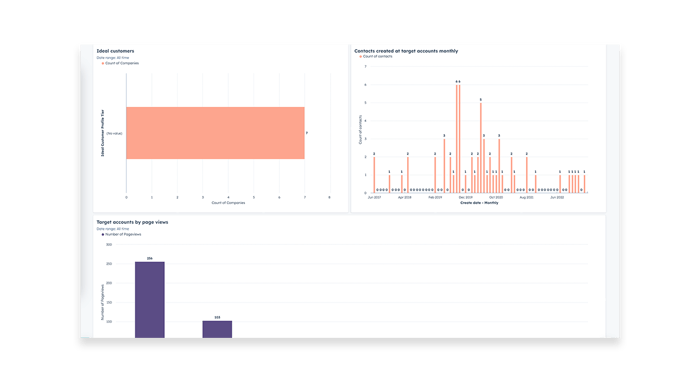 This template is designed for sales reps and organizations who are using account-based marketing. This is similar to the target accounts overview dashboard, but with additional reports that provide insight into contacts within a target organization and their activities.
Reports to Add to This Dashboard:
Ideal Customers




Target Accounts by Active Deal Amount

Target Accounts by Buying Role

Target Accounts by Number of Associated Contacts

Contact Lifecyle Stage by Target Account

Contacts Created at Target Accounts Weekly




Target Accounts by Sales Activity Dates




Target Accounts by Page Views
5. Sales Opportunity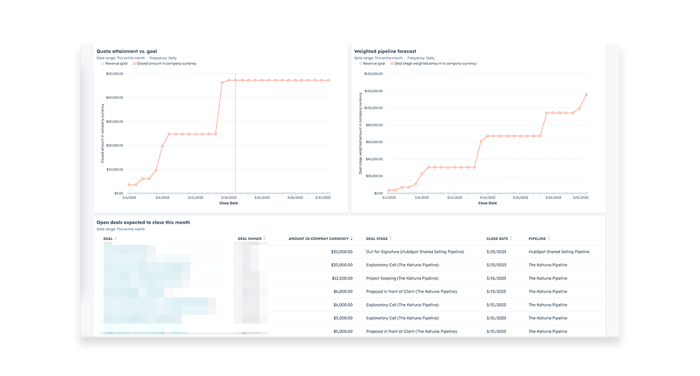 This template is designed for sales reps and sales managers to look at forecasting and opportunities. Most of the other reports focus on what's been done - this report looks at what needs to be done yet to reach goals.
Reports to Add to This Dashboard:
Quota Attainment vs. Goal

Weighted Pipeline Forecast

Time in Deal Stages

Open Deals Expected to Close This Month

Calls Made vs. Goal

Deal Created Totals vs. Goal

Meetings Booked vs. Goal

Total Meetings Booked by Type

Average Purchase Value
Data is critical, but you don't want to get bogged down in reporting paralysis at the overwhelming amount of data available in HubSpot. Instead, use these sales dashboard templates to get started with intelligent tracking and reporting.
But what happens if you start with these reports and find that you need more custom options? What if you have a large sales team, a longer sales cycle or custom deal stages that aren't covered in HubSpot's default reporting options? Then you need to partner with a HubSpot partner.
Get the Most Out of HubSpot with a Platinum Partner
HubSpot is a significant investment. If not implemented and used properly, you're not getting the most out of this powerful tool. You can go it alone, but working with a HubSpot partner agency means that you don't need to become an expert in HubSpot to get up and running.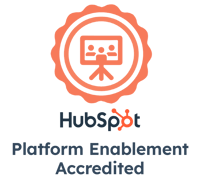 BizzyWeb is a HubSpot Platinum Partner and we offer full-service HubSpot onboarding, clean-up and strategy for all hubs. Our team has over 191 certifications in HubSpot (and constantly growing). No matter what your HubSpot needs are, our team is ready to handle them.
Plus, we are the only agency in Minnesota with a Platform Enablement Accreditation from HubSpot!
Onboarding programs for new HubSpot users
Customized for you, based on your business, processes and goals

Full onboarding offerings for all Hubs (Sales, Marketing, Service, CMS, Ops)

Personalized, custom training

First-tier tech support offered at no charge after onboarding
Fix-It programs for current HubSpot users
Thorough examination of current HubSpot Hub(s)
Clean-up of data and contacts
Creation of lists, workflows and sequences as needed
Identify opportunities for integration
Help you get the most out of your HubSpot account
---
BizzyWeb is a Minneapolis-based digital marketing and web design agency that helps companies get the high-quality leads they need to grow and thrive. Our tactics include inbound marketing, SEO, advertising, web design, content creation and sales automation. We are an accredited
HubSpot Platinum Partner
and we offer full-service HubSpot onboarding, enablement and strategy for new and current users.