Why You Should Use Topics, Not Keywords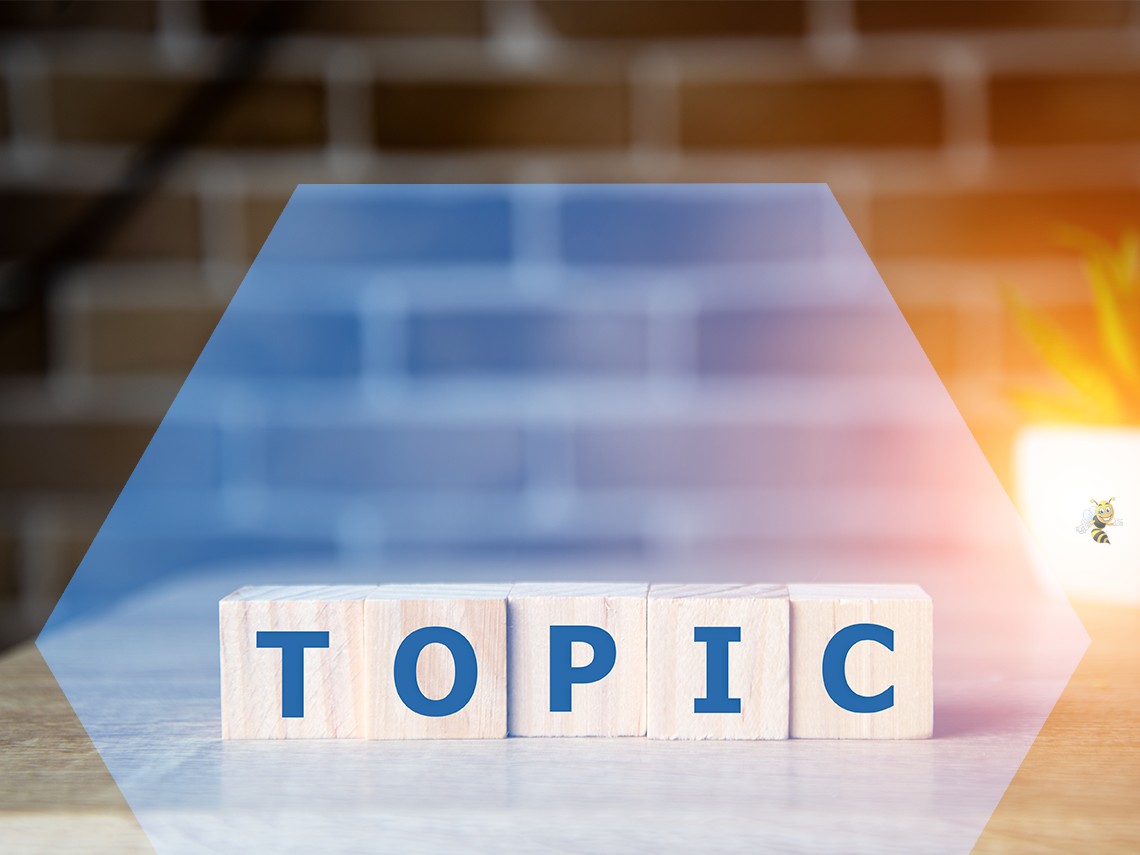 Conventional wisdom says if you want to rank on Google, you need to focus on keywords. The more your website focuses on specific phrases, the more likely it is to rank for those phrases...right?
But is that really the case anymore?
Are keywords still important?
The truth is that Google is shifting away from a strict keywords and toward topics. In the words of John Mueller, Webmaster Trends Analyst at Google: "I'm sure search engines will get better over time to understand more than just the words on a page."
Meaning that as search engines evolve, they're no longer looking at what page uses the same word the most times, but instead: what page answers a user's question the best.
Quick Refresh: What Are Keywords?
Keywords are exactly what they sound like - key words that you want to rank for on Google. For example, "web design" or "digital marketing."
There are two primary types of keywords, short tail and long tail.
Short tail keywords are direct and to the point - "SEO"
Long tail keywords are closer to phrases or full questions - "what is on-page SEO"
Why Shouldn't I Use Keywords?
Google's goal since its inception has been to deliver accurate, clear and authoritative results to searches. In its early days, Google had to rely on keywords to understand what a page was about. That led to a lot of painful, bloated content like:
We offer digital marketing services in the Minneapolis area. Our Minneapolis digital marketing services are the best digital marketing services in Minneapolis. If you need digital marketing in Minneapolis, we're in Minneapolis.
In an effort to curb this type of content (which is called keyword stuffing), Google's algorithm has been shifting more and more toward content written with the user in mind, not keywords. That means content needs to be to the point, relevant and useful to the reader.
Topics vs Keywords
It's not that you should abandon keywords entirely, but they shouldn't be the driving force of any page or blog. Instead, you should focus on topics. The difference between the two is trying to answer a question or search query in-depth vs. just focusing on a specific phrase.
For example, let's break down this blog post.
Keywords: SEO, Keywords, Google
Topic: Why focusing on topics instead of keywords can help you rank in Google
The two are very similar, but keywords are much more restrictive. By contrast, the topic gets to the core of why someone would read this blog post - they want to learn more about ranking in Google, and how they can adjust their strategy.
How Do I Get Started with Topics?
To get started with topics is to start with one primary topic and then generate clusters of themes related to that main topic. For example...
Primary Topic: SEO
Cluster Topic: advice about SEO, how does SEO work, why is SEO important, keywords or topics, how to use keywords in a blog
But how do you identify these cluster topics? Try these methods:
1. Focus on search intent
Search intent is the "why" behind someone making a search online. Yoast breaks down all search intent into five basic categories of need: informational, navigational, transactional, commercial and keyword.
Informational intent

are searches based on gathering information, both basic and complex.
Navigational intent

are searches to get to a certain website.
Transactional intent

are searches based on retail or eCommerce.
Commercial intent

are searches for future purchases.
Keyword intent

are searches that use specific words that clue you into their intent. Things like "buy, deal, discount" let you know that they want to purchase. Things like "how to, best way to" let you know they want information. This type of intent usually overlaps with one of the other four intents.
You can start with your primary topic and run it through each of these search intents. If I did that with SEO, it would give me the following cluster topics:
Informational - "what is search intent?"
Navigational - "BizzyWeb SEO"
Transactional - "tool to do on-page SEO"
Commercial intent - "how can I find an SEO agency"
Keyword intent - "best way to do keyword research"
In order to find intent, you'll need to get into the mind of your customer. You may need to some additional market research to figure out what their motives and thought processes are.
2. Use keyword research
I know this entire blog post is about topics vs keywords, but honestly a great way to find topics is to start with those keywords. A good way to come up with those cluster topics is to use tools like Google Trends that keywords that people search for in Google. Long tail keywords can often transition nicely into more concentrated topics.
For example "what is SEO" could transition into a more specific topic like "How to Rank on Google's First Page Using SEO."
Another good place to start is taking those keywords and going to Google and doing a simple search using the 5Ws (and 1H) and see what comes up in suggested search:
Who
What
Where
When
Why
How
Taking our same broad keyword of "SEO" again, putting a simple "how" in front of it and seeing what came up for suggested searches gives me a nice batch of topics I could use to write blog posts: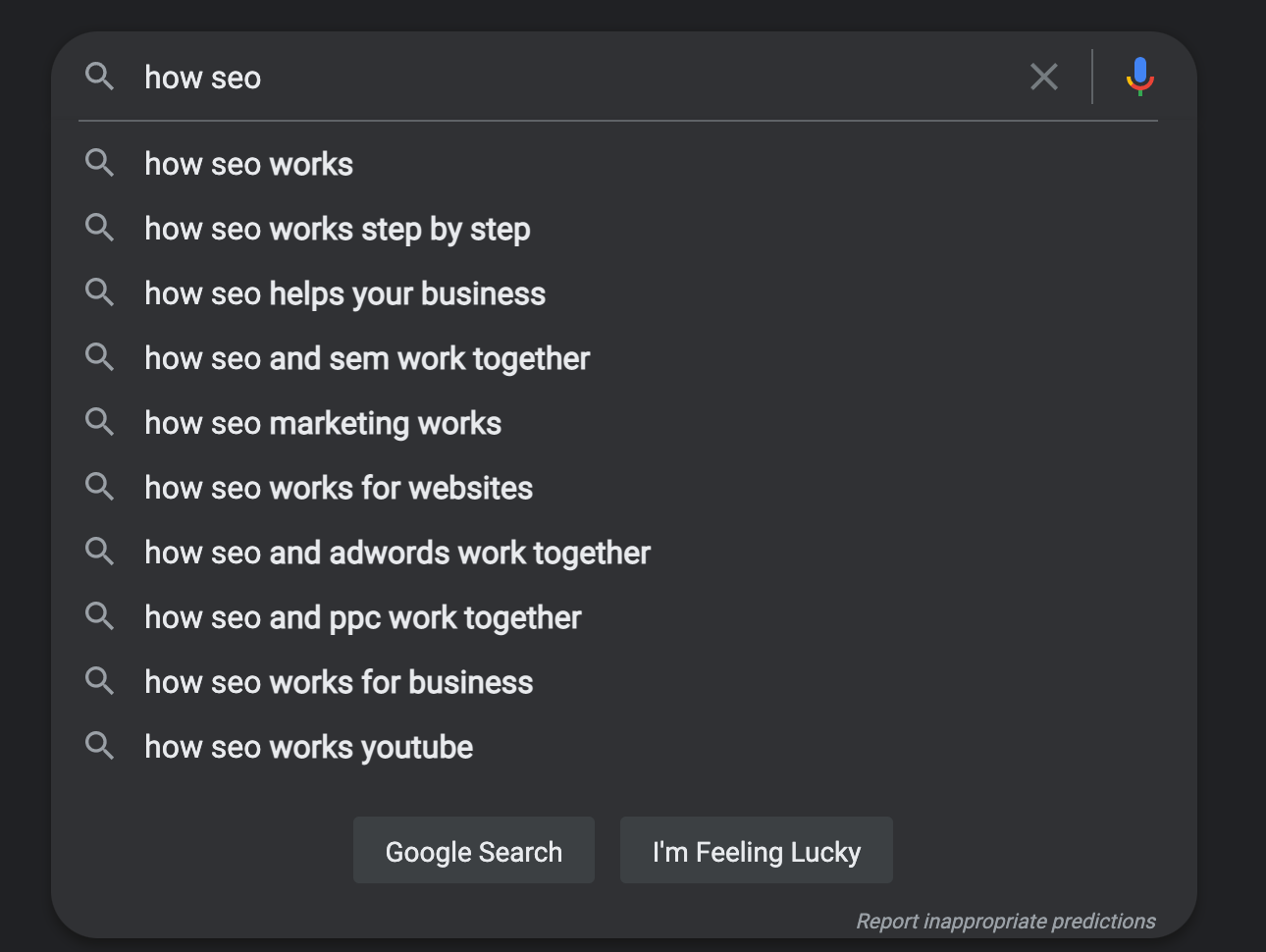 3. Ask your current best customers
The ultimate goal with any online marketing - including SEO and blogging - is to get good leads. So you can also find topics by asking your best customers some questions:
If you used/use Google in your research before working with us, what were some of the things you looked up?
What are some questions you had/have about [product/service]?
What's something about [product/service] you wish you knew more about?
Their answers can give you some good places to start with writing new content based on topics.
Keywords aren't disappearing completely, but it's time to stop writing for bots and to start writing with humans in mind. Topics are a more natural way of conveying information that resonates with your audience.
* * *
Improve Your On-Page SEO with the On-Page SEO Checklist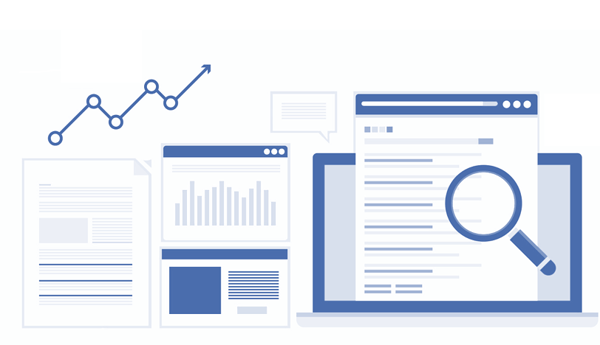 Download our SEO checklist of important on-page elements you can optimize for on-page SEO and content optimization.
This download will give you concrete steps to take on every page to optimize it for search engines.
---
BizzyWeb is a Minneapolis-based digital marketing and web design agency that helps companies get the high-quality leads they need to grow and thrive. Our tactics include inbound marketing, SEO, advertising, web design, content creation and sales automation. We are an accredited HubSpot Platinum Partner and we offer full-service HubSpot onboarding, enablement and strategy for new and current users.