How to Successfully Implement HubSpot [Free Checklist]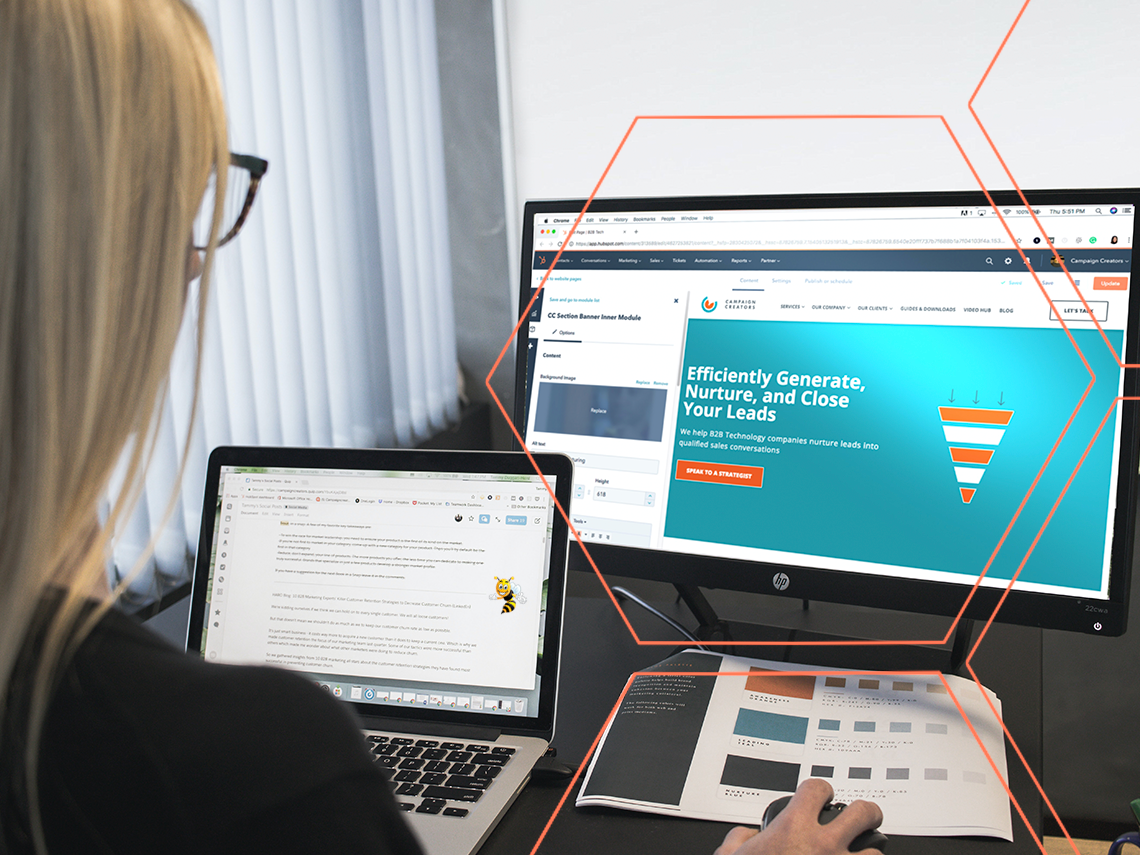 So, you've signed up for HubSpot (whoo!). Now what?
HubSpot is an immensely powerful tool - but it can be daunting when you're just getting started. Let us make your implementation and setup a bit easier with the following best practices.
Here's how to successfully implement your HubSpot CRM!
HubSpot CRM Implementation Checklist
☐ Connect Your Inbox
☐ Install Email Extension
☐ Create and Edit Properties
☐ Import Contacts
☐ Create Filters
☐ Define Your Deal Stages
☐ Website Integration
☐ Invite Your Team
HubSpot CRM Implementation Steps
1. Email Integration
In this phase, you'll be connecting your inbox and installing the HubSpot email extension. Once completed, all of the emails you send and receive will automatically be stored in your CRM.
Connect Your Inbox
What you need:
A personal email -

this should be an email you alone use to send emails to contacts. Most often, your company email address.

Knowledge of what email provider you use. Y

ou can ask your IT department, or you can use

MxToolbox

to look up your email domain's email service provider.
The specifics of how to connect your inbox depend on what email service provider you're using.
➤ Get Started: Use the HubSpot Connected Email Guide
Install the HubSpot email extension
The HubSpot Sales extension works with your web browser to connect emails you send to your CRM for more detailed tracking. The extension you need will depend on your email host and client. Use this table from HubSpot to find the right version.
Email host

Gmail or G Suite

Office 365

Any

Email client

Gmail/G Suite in Chrome

Outlook on the web Outlook.com*
Outlook for Mac - version 15.33 or later
Outlook for PC - version 1603 (build 6769.0000) or later

Outlook 2019
Outlook 2016


Outlook 2013




Operating system

Mac, PC

Mac, PC

PC only

System requirements

N/A

N/A

Microsoft Windows 7,8, or 10
Microsoft Outlook 2013 or 2016
Microsoft Visual Studios 2010 tools for Office Runtime
.NET 4.6 or higher
Connected inbox required

No**

Yes

No**

Centrally deploy/install for multiple users
Available

Available

Not available

Quick install links
*If you're accessing your email on Outlook.com, you cannot pin the Office 365 add-in in the inbox.
**Some sales tools cannot be used without a connected inbox.
Remember to do this after you've connected your inbox - otherwise it won't work properly.
2. Create and edit properties
Properties power your CRM and make organization possible. Properties store specific information about your contacts. There are default properties that come with the CRM, and custom properties you can create. The possibilities are endless depending on your organization and how you want to parse out data.
Default properties in HubSpot include:
Get Started:
➤ Learn About the Default Properties: Contacts | Companies | Deals | Tickets
➤ Organize and Export Properties
➤ Property Field Types in HubSpot
3. Import contacts
This is where the fun begins - now it's time to start importing all your current contacts into HubSpot's CRM. You can important contacts via a spreadsheet or Gmail integration.
This is also the step that often takes the most amount of time and prep work, so be prepared to dedicate some time to getting this done right. Trust us - it's better to spend extra time making sure your data is clean vs. having to spend even more time later doing fixes.
What to do before you start importing:
Export your contact data out of your current systems
Get your contacts into a spreadsheet - either in

.csv, .xlsx, or .xls

Clean up your data - remove irrelevant contacts, make sure all data is complete and written out correctly (e.g., "thisguy@gmail.com" not "thisguy@gmail")

Make sure your spreadsheet is only one sheet (not multiple tabs)

Include a header row where each column corresponds to a property in HubSpot. Column headers can be organized in any order without affecting the import. You can confirm if a

default property already exists

to match your header or

create a custom property

prior to importing. Learn more about HubSpot's default properties for

contacts,

companies,

deals, and

tickets.
Get Started Importing:
➤ (For Gmail Users) Sync Gmail Contacts
4. Create filters & views
Once you have your properties set and your contacts imported, you can begin creating filters and views. Filters and Views lets you work with contacts based on properties.
You can set up filters in any of the following sections within HubSpot:
Contacts
Companies
Deals
Tickets
Payments
Calls
Custom Objects
➤ Get Started: View and Filter Records
5. Define your deal stages
Deal stages are vital for your HubSpot account - they tell you where eah contact is at in their buyer's journey, and what actions need to be taken. No matter your business, when you're converting a lead to a customer there are specific actions you need to take.
In order to successfully use HubSpot, you need to know what actions your team(s) take to guide a lead to a customer, and what order they happen in. These are then broken down into percentages within HubSpot - with 100% being a close.
By default, HubSpot includes a sales pipeline with seven deal stages:
Appointment scheduled (20%)
Qualified to buy (40%)
Presentation scheduled (60%)
Decision maker bought-in (80%)
Contract sent (90%)
Closed won (100% Won)
Closed lost (0% Lost)
You can add or remove deal stages as needed for your business. The goal here is to be able to accurately track where a buyer is in their journey, so you can then accurately attribute revenue from deals.
➤ Get Started: Set Up and Customize Your Deal Pipelines and Deal Stages
6. Website integration
HubSpot's website integration allows you to more easily import leads from your site into your HubSpot account, and to get better data on what they're engaging with. This includes both tracking and lead flows, like pop-ups.
Get Started with Website Integration:
➤ Install the HubSpot Tracking Code
➤ (For WordPress Sites) Install and Use the HubSpot WordPress Plugin
7. Invite your team
Whew - now you've gotten all the hard work done, so it's time for the easy (well, easier) part - inviting your team! HubSpot works best when everyone is using it, so you'll want to make sure your team has access to what they need in the system.
You can add as many users as you want to HubSpot CRM, each with their own level of access. This means your team gets that vital visibility, but they can't start editing and removing things they shouldn't.
Get Started with Users:
➤ HubSpot User Permissions Guide
...Or Just Have a HubSpot Partner Agency Do it All For You
If you've been following along, your head might be spinning. Getting HubSpot implemented is a ton of work. That's why you don't have to go it alone.
Working with a HubSpot partner agency means that you don't need to become an expert in HubSpot to get up and running.
As a Platinum HubSpot partner, we can assist you with Onboarding, Inbound Marketing, Service and CRM.
Onboarding Programs for New HubSpot Users
Customized for you, based on your business, processes and goals

Full onboarding offerings for all Hubs

Personalized, custom training

First-tier tech support offered at no charge after onboarding

Prices start at $4,000 scoped individually based your needs
Fix-It Programs for Current HubSpot Users
Thorough examination of current HubSpot Hub(s)
Clean-up of data and contacts
Creation of lists, workflows and sequences as needed
Identify opportunities for integration
Help you get the most out of your HubSpot account
---
BizzyWeb is a Minneapolis-based digital marketing and web design agency that helps companies get the high-quality leads they need to grow and thrive. Our tactics include inbound marketing, SEO, advertising, web design, content creation and sales automation. We are an accredited HubSpot Platinum Partner and we offer full-service HubSpot onboarding, enablement and strategy for new and current users.