5 Inbound Marketing Mistakes You're Probably Making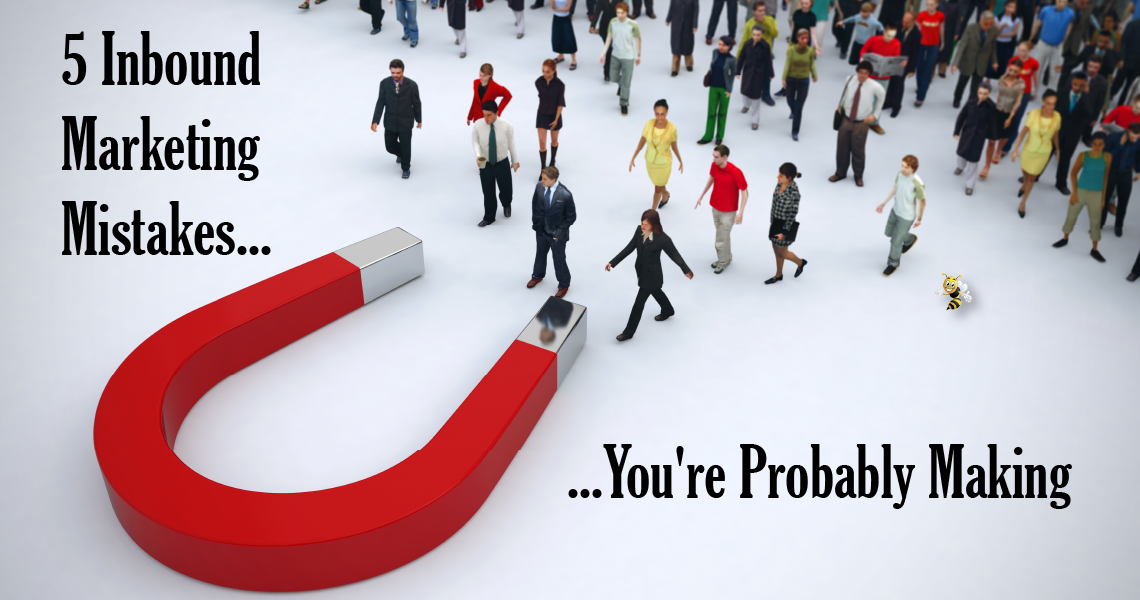 Inbound marketing success is not guaranteed by following a one-size fits all formula. A certain level of trial and inevitable error is necessary to find the right fit for each company, as well as remain agile when there are updates and ranking changes. But there are still some common mistakes that companies make when they first begin inbound marketing.
Avoid these blunders to ensure that your inbound marketing campaigns are a success.
Mistake 1: Using outdated personas (or no personas at all)
A common mistake companies make is rushing straight to marketing without stopping to build out new buyer personas. Buyer personas are fictional, generalized representations of your ideal customers. They have a name, an age, a job, family, hobbies, values and fears. By building out your persona first, you can determine what information they want, how to capture their interest and where they spend their time online.
Even if it's the same product, your persona can be drastically different. For example, the language and hooks you would use to sell a skin cream are different between a 25 year old new mother and a 67 year old grandfather.
Mistake 2: Ignoring SEO
Search Engine Optimization (SEO) is a strategy to make sure your original, and valuable, content is presented to the right audience. A good inbound SEO strategy incorporates content, inbound assets and user experience. If you want your inbound campaign to have staying power, you can support it through SEO efforts on your website. Additionally, building your SEO at the same time that you build your inbound campaigns around key terms helps establish you as an authority on that topic in the eyes of Google.
Mistake 3: Not developing a social strategy
You could have the greatest inbound campaign the world has seen, but if you don't have a plan to distribute it, it'll never bring you leads. Beyond just pay-per-click ads on social media platforms, you'll want to create a strategy for promoting your inbound campaign on your regular social media channels. Consider your persona: where do they spend their time online? What sort of messaging do they prefer? Will you need video content as well? These questions should all be answered before you begin building your inbound marketing campaigns.
Mistake 4: Using one size fits all tactics
Often a business will miss out on opportunities based on convention or using the same content on all platforms. LinkedIn is great for b2b so likely your content posted here is for a commercial or professional demand. Just as what you tweet and link to Facebook will adopt a different tone and purpose. Modify content to fit the platform audiences, even if the main idea is similar.
Mistake 5: Focusing on the wrong metrics
Impressions are often viewed as the biggest indicator of success when in reality, impressions only indicate exposure. Exposure to what and whom? Impressions are kind of like musical genres in that you probably would not play a country music concert for fans waiting to hear death metal. Yes, the music was heard by all the waiting fans, but it netted no album sales. Rather, develop clear SMART goals for your marketing campaign, establish baselines and track your progress meaningfully.
All of these common mistakes can derail your inbound marketing campaigns. Customers who find and engage with you online have high expectations for a quality experience. Meet their demand by committing to your marketing strategy and eliminating these common mistakes.
* * *
Jump Start Your Business
Many companies are looking for new, creative ways to conduct business – taking their products or services online to facilitate sales, appointment setting and online ordering or quoting. Some have had to shift focus to lines of business that weren't a priority before. And how do you take it to market remotely?
BizzyWeb is offering a special Jump Start Strategy to get you on the road to success! This personalized strategy gives you a roadmap of actions to take to meet your business goals. Not sure how to transition online? Struggling to pivot during COVID-19? The Jump Start Strategy will give you ideas of where to go and how to ramp up your business.
Now is the time to look forward, not back, and figure out how to jump start a process that can help you grow.
That's what BizzyWeb's passion is – helping companies grow!
Need a new digital marketing or web design plan? We are a Minneapolis SEO, digital marketing, social media marketing, web design and HubSpot inbound marketing agency. Stop on by and get started – and while you're here, pick up a free honey stick (yes, we love our bee-related theme).