9 Critical Things To Do When Business is Slow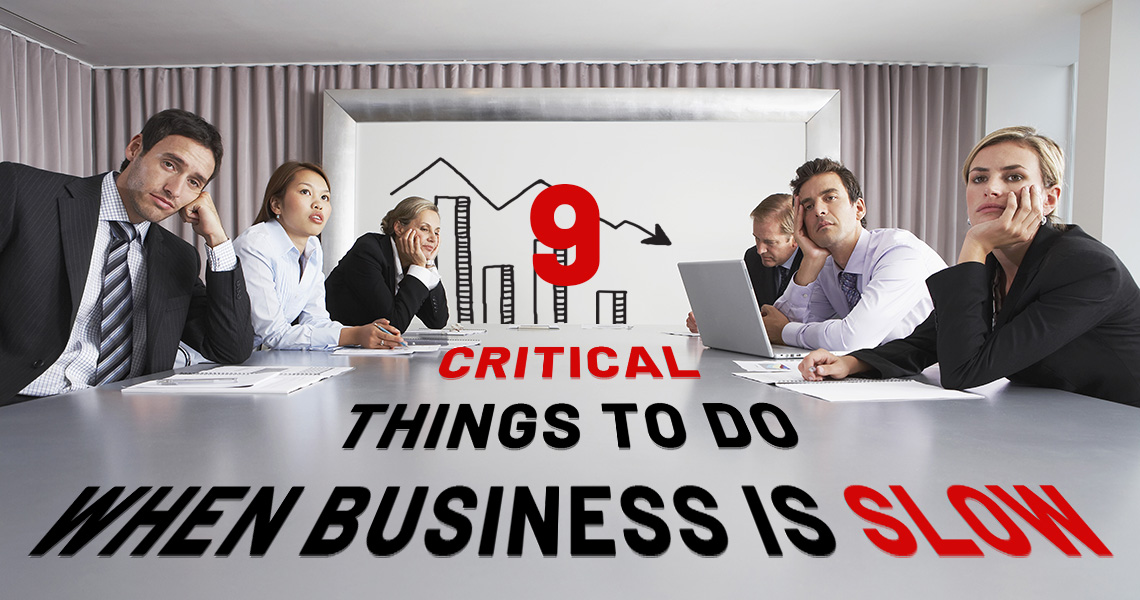 As we settle into the new normal, we all have to make adjustments. If your business is still up and running, you may find yourself with more downtime than before. Now is the perfect opportunity to be proactive and cross off some of those "someday" tasks that pile up. Read on for some ideas of time-consuming tasks that are critical to do when you have the time.
1. Set up (or clean up) a CRM
If you've been considering a CRM (customer relationship management system) or have purchased a CRM but haven't finished the set up, now is the perfect time. Setting up a CRM, adding contacts and creating workflows can take more than 40 hours. Taking the time for this arduous process now will position you better when business picks back up later.
2. Review internal handoff processes
For most businesses, this is one of those tasks that "should" get done, but never quite seems to get finished. Take a look at your internal processes and how information is stored/shared: where are there gaps? Is your sales team using Google Drive and Google Chat, but your marketing team is using Dropbox and Slack? Review these processes and get everyone on the same page and using the same tools.
3. Backup computers and data
This is an excellent task that can protect your business if a digital disaster ever strikes. Have each of your employees back up their computers: either on an external drive, over the internet, or using a cloud storage system. This ensures their files have a safe place to live and you won't lose all your data. If you use a cloud-based service like Dropbox or Google Drive to store your data, take the time to comb through it. For all important documents, you'll want to have it saved it at least two different places, so that you're not risk of losing it.
4. Check and update passwords
Have you ever taken the time to wrangle all your passwords? If your business isn't currently using a password management tool like 1Password, now is an excellent time to set that up and get all employees on board. It's also a great time to review who has access to passwords. Who has access to your social media accounts, website or CRM? Are they still with the company? Do you have a backup/plan for other employees to access these accounts if that employee left? Taking the time now to iron out any gaps in your password strategy can save you headache in the long run.
5. Review marketing materials
If you're looking for something to do that's an easy win but also takes a bit of time, take a look back at your current marketing materials:
Clean up/remove as needed old blogs (If they're from 2015 and earlier and get no traffic, remove them or set up a plan to rewrite them)

Are your social media bios still accurate?

Is your content calendar up-to-date? (Do you have a content calendar?)
Are there any old downloads still on your website?


6. Audit your SEO and Website
This is a great way to refresh your website without the need for an expensive redesign. Take a look through your web pages for gaps in your SEO (search engine optimization) strategy. If you're not sure where to start, use our free SEO auditor to review your website. For a quick how-to on SEO, check out our blog: On-Page SEO Steps [Free Checklist].
As well as updating your SEO, take a look through your pages' content to see where you can fill in any gaps. Is there outdated information that can be updated? Are there new services that are not covered anywhere on the website? Are your employees' bios still accurate?
7. Create new personas
Personas are semi-fictionalized representations of your ideal customers. They allow you to more accurately create web and marketing materials aimed at pulling in new business. If you have existing personas, take the time to refresh them for continued accuracy. If you don't have existing personas, now is the time to build them. Use our Free Templates & Guide – How to Create Buyer Personas to get started!
8. Get (Re)Certified
When you find yourself with more time than you know what to do with, it's a great opportunity to knock off some certifications. If you have any expired or soon-to-be-expired certifications, go ahead and submit that re-certification now if you're able to digitally. If you want to expand your expertise, there are a few online certifications that can help you be a better digital marketer. Both Google and HubSpot offer nationally- and internationally-recognized certification courses online.
9. Learn Something New
New learnings help diversify your skill set and empower you to take charge of your website and digital marketing. Education is a big part of what we do at BizzyWeb, and we have a variety of learning materials free for you to use! In addition to this blog, check out our free webinars on YouTube/Zoom and our WordPress tutorials. We also have some downloadable resources that you can use to broaden your digital marketing knowledge:
If you find yourself with downtime, these critical tasks will help you stay on top of your digital marketing, clean up your data and prevent issues in the future.
* * *
Jump Start Your Business
Many companies are looking for new, creative ways to conduct business – taking their products or services online to facilitate sales, appointment setting and online ordering or quoting. Some have had to shift focus to lines of business that weren't a priority before. And how do you take it to market remotely?
BizzyWeb is offering a special Jump Start Strategy to get you on the road to success! This personalized strategy gives you a roadmap of actions to take to meet your business goals. Not sure how to transition online? Struggling to pivot during COVID-19? The Jump Start Strategy will give you ideas of where to go and how to ramp up your business.
Now is the time to look forward, not back, and figure out how to jump start a process that can help you grow.
That's what BizzyWeb's passion is – helping companies grow!
Need a new digital marketing or web design plan? We are a Minneapolis SEO, digital marketing, social media marketing, web design and HubSpot inbound marketing agency. Stop on by and get started – and while you're here, pick up a free honey stick (yes, we love our bee-related theme).