Is Influencer Marketing Worth It?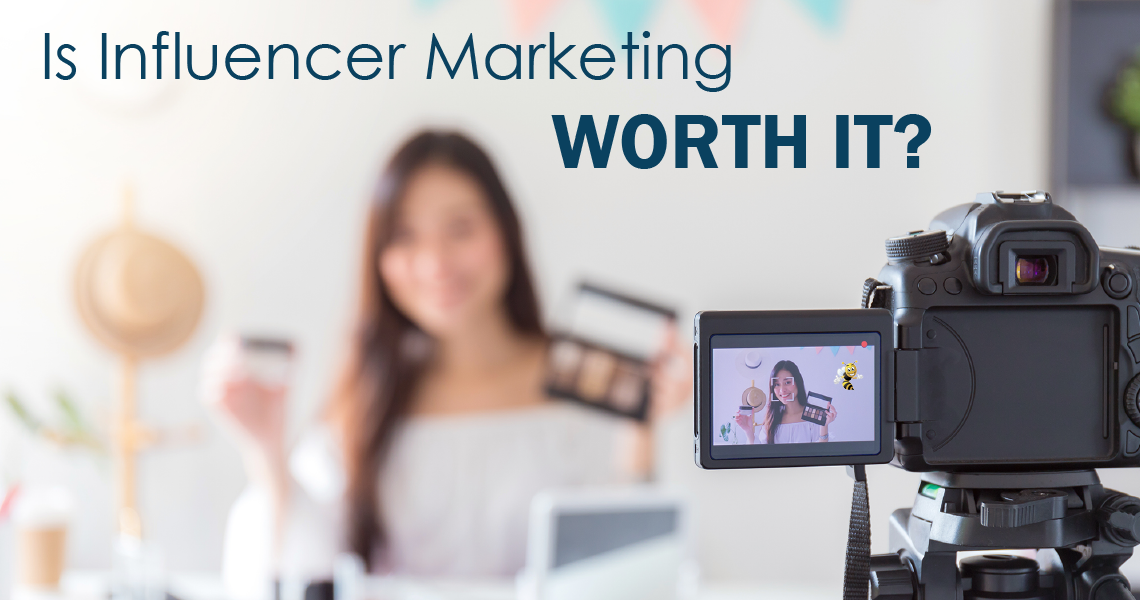 Social media influencers are everywhere nowadays, with companies eager to throw money at them in exchange for some promotion. But does influencer marketing actually work? And is it worth it for your business?
Whats is an Influencer? And What is Influencer Marketing?
Influencer marketing taps into popular content creators in niche audiences to spread brand awareness, advertise a product or drive website traffic. Influencers can be as high-profile as celebrities like Kim Kardashian or singers like Cardi B, but more often than not they're social media celebrities in a niche audience - like Ninja, the professional gamer and streamer.
The largest appeal of influencer marketing is an associated authenticity. Rather than listen to a brand speak about themselves, potential consumers hear the message from someone they follow and trust. It's also appealing over traditional marketing methods because of its flexible price point. Companies can simply send product as PR for only the cost of product + postage or can create a whole campaign with an influencer to promote their product in multiple videos or photos.
Because of the large number of online influencers, there is also a wide variety of influencers to choose from at various price points. Your company may not be able to swing the alleged $60,000 per sponsored content that big beauty gurus demand, but you may be able to afford a partnership with a micro-influencer who charges considerably less.
So...is it worth it?
Like many marketing trends the answer is: it's complicated. 80% of marketers say influencer marketing is effective, and 89% say it works just as well (if not better) than other marketing channels. However, influencer marketing requires research and legwork and isn't guaranteed to see results. Generally, it's most effective for either niche products or for services that have wide appeal (such as Audible or Skillshare). Influencer marketing has also historically been most successful with B2C brands, although some large B2B companies have tapped into influencer marketing.
Before deciding if you want to test out influencer marketing, ask yourself these questions:
Do I have a niche product or service that appeals to a niche online community?
How much return do I want to see for my investment?
Am I willing or able to do research to find an influencer? (Or alternatively, am I willing to hire a service to find an influencer for me?)
Do I already have a solid online marketing presence?
Is my website equipped to handle many visitors at once?
Am I able to "take a leap of faith" with the costs associated with influencer marketing?
If the answer to those questions is "yes" - you should consider influencer marketing. If you want to start small, look for a micro-influencer in your niche and send them a product for review or ask their costs for a sponsored post. For example, a publishing company could quite easily send a book blogger a book in exchange for review. Or a video game company could send hardware to a streamer in exchange for a sponsored picture on their Instagram. Starting small is an easy way to dip your toes into the water before committing big dollars to massive influencers.
Before tapping into influencer marketing, take a look at your existing digital marketing strategy. Influencer marketing can be a great tool, but it should be a cog in the machine like email marketing or blogging - not your entire strategy. And influencer marketing may not be suitable for your industry - that's ok too. The only way to find out is to give it a try.
* * *
Plan Better with SMART Goals [Free Template]
SMART is a methodology that helps you establish concrete and achievable goals. To help you align your marketing efforts with SMART goals, we've built this marketing template that you can download for FREE. It will specifically help you:
Easily summarize your ultimate marketing goals
Automatically calculate your greatest marketing need
Set a deadline for meeting your annual, quarterly, or monthly goals


Download Our FREE SMART Goals Template
Need a new digital marketing or web design plan? We are a Minneapolis SEO, digital marketing, social media marketing, web design and HubSpot inbound marketing agency. Stop on by and get started - and while you're here, pick up a free honey stick (yes, we love our bee-related theme).