On-Page SEO Steps [Free Checklist]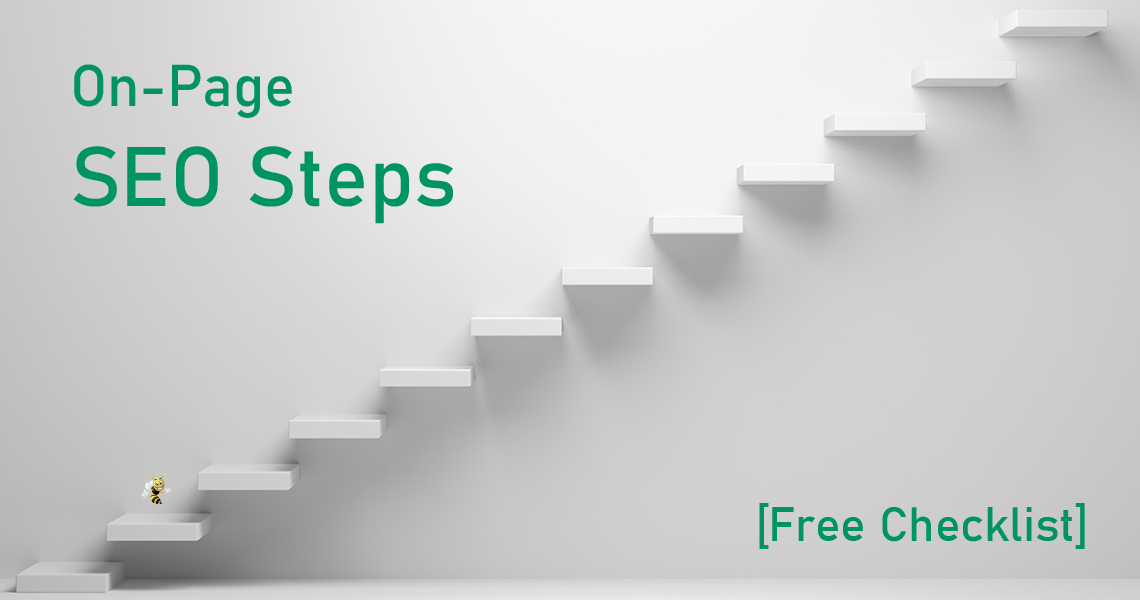 Online, you don't have to be a great writer for your content to show up on Google. However, you have to be a strategic writer to rank on the first page of search results. As you write your content, you need to make sure you perform on-page SEO so that search engines know how to read what you've written.
What is On-Page SEO?
Simply put, on-page SEO is the practice of optimizing your content and HTML to best rank in search engines. This means defining what your page is about, as well as organizing each element so that search engines can read it. This includes your page title, URL, content and a few other elements. If the prospect of diving into your HTML makes you dizzy, don't panic. Luckily, most modern content platforms like WordPress and HubSpot have sections where you can directly enter in that information instead of having to go into the code of your page.
On-Page SEO Infographic
This infographic from SEMRush breaks down all of the elements of on-page SEO. Save the image to use as reference, or keep reading for a text version of the checklist you can use.
What Is...
SERP Listing?
SERP stands for "search engine results pages" - aka, what comes up on Google, Bing, et al. when you search for a term. There are a few different types of content that come up in search results - get the full breakdown in our article all about SERP.
Meta Title?
The page/blog title that displays in Google. The title is the single most important element when it comes to ranking. Your title should convey the meaning of your content and ideally include a keyword. Your title could either include a short tail keyword or long tail keyword. Here's an example of how that could break down:
Short tail keyword: "digital marketing"
Page/Meta Title: "Digital Marketing | BizzyWeb"
Long tail keyword: "inbound marketing examples"
Blog/Meta Title: "8 Inbound Marketing Examples You'll Want to Try"
URL?
The URL for your page is also key for SEO, since Google is very conscious of bait-and-switch content and will try and shut it down. Your URL should match with your page title, but you may need to trim it to avoid excessive length, redundancy or misleading content. For example:
Page Title: "Digital Marketing | BizzyWeb"
Do This: https//www.bizzyweb.com/digital-marketing
Not This: https://www.bizzyweb.com/digital-marketing-bizzyweb
Never This: https://www.bizzyweb.com/digital-marketing-tips-and-tricks
In the last example, the URL is misleading because the page does not share tips and tricks. Your URL should be honest to your content.
Meta Description?
The meta description is the small preview of text that appears underneath your search result. In past years, the meta description held more weight. While it's still important, it's not as critical as the title or actual content of your page. Ideally, your meta description should include your keyword and be a short summary of your content. If your goal is to get a featured snippet or rank for voice search, it helps to have a question/answer format for your meta title and meta description.
Example:
Meta Title: "Does Medicare Cover a Gym Membership?"
Meta Description: Medicare does not cover fitness programs and gym memberships, but private health plans may offer gym memberships.
On-Page SEO Checklist
Below is a checklist you can use when creating content to ensure that you're following SEO best practices.
☐ Keyword in Meta Title
☐ Keyword in URL
☐ Keyword in Meta Description
☐ One H1 Tag on the Page (this will be the page title by default on WordPress)
☐ All Images Have ALT Tags
☐ There are Subheads on the Page
☐ Target Keywords Appear in the First 100-150 Words
☐ Body Includes Internal Links to Other Areas of Your Website
Now that you've got a format for on-page SEO, you can use this to make sure your inbound campaigns and digital marketing are up to snuff.
* * *
How Do I Get Started with Inbound Marketing?
All you have to do is follow the guide! Download the The Beginner's Guide to Inbound Marketing to get started!
In this download you'll find:
A step-by-step guide on how to create an inbound marketing strategy, including building buyer personas and setting SMART goals
Sample lead magnets to use in your inbound marketing campaigns
Step-by-step instructions to create a lead capture form
A checklist for creating an effective landing page
Instructions for building automated emails
Actionable tips for marketing your campaign to a new audience
Steps for optimizing your campaign for search engines


Download Our FREE Guide to Inbound Marketing
Need a new digital marketing or web design plan? We are a Minneapolis SEO, digital marketing, social media marketing, web design and HubSpot inbound marketing agency. Stop on by and get started – and while you're here, pick up a free honey stick (yes, we love our bee-related theme).