What is Conversion Rate Optimization?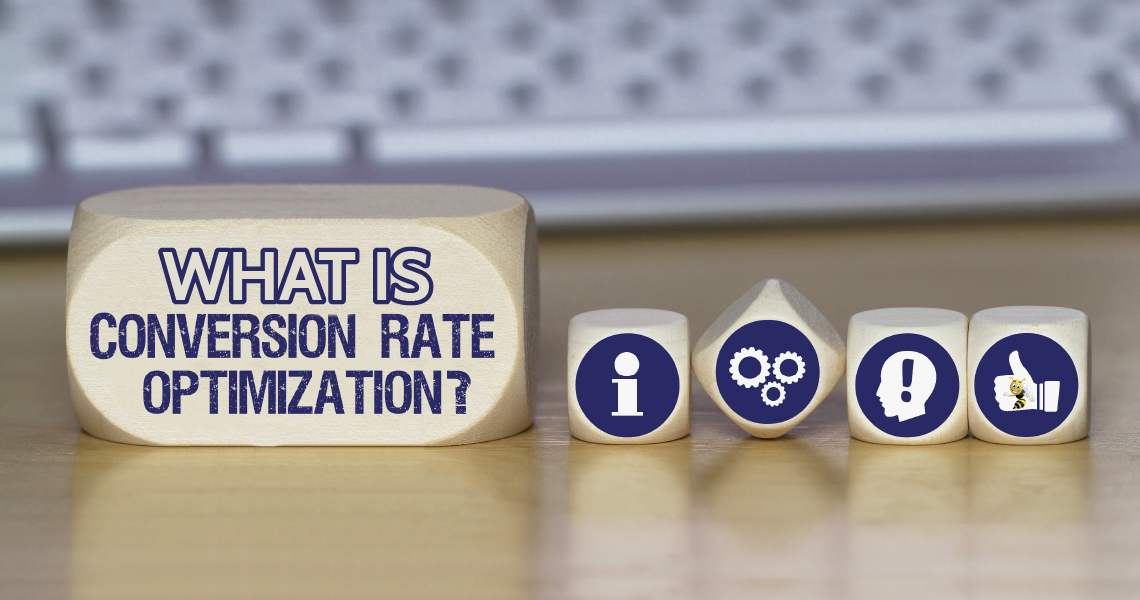 Conversions - can't live with them, can't live without them. Conversions are form fills, phone calls, product purchases - any tangible action someone takes on your website that sets them on the path of becoming a customer. However, conversions are also a tricky beast to master. This is where conversion rate optimization comes into play.
What is a Conversion Rate?
A conversion rate is the percentage of people who took a desired action (filled out a form, bought a product, called a phone number, etc.). To calculate your conversation rate, use the following formula:
Leads Generated ÷ Website Traffic x 100 = Conversion Rate %
Let's walk through an example:
If your website has 10,000 visitors a month...
and 100 of those visitors fill out the contact us form...
then your contact us form has a conversion rate of 1%
You can calculate conversation rates for specific actions (like above) or add all your conversions together to determine an overall conversion rate for your entire website.
What Conversion Rate Optimization?
Conversion Rate Optimization (CRO) is the process of tweaking your website and content to improve your conversions. The higher your conversion rate, the better - this shows that your website is being found by those who need it and that they want to take a further action. CRO is critical to your overall business growth as well as the health of your website. If your conversion rate is low, that shows you (and Google) that the people landing on your site aren't finding what they need.
When optimizing for CRO, you'll want to look at three equations instead of one (source: HubSpot).
CRO Calculation 1: Conversion Rate
Leads Generated ÷ Website Traffic x 100 = Conversion Rate %
CRO Calculation 2: Number of Net New Customers
New Revenue Goal ÷ Average Sales Price = Number of New Customers
CRO Calculation 3: Lead Goal
Number of New Customers ÷ Lead-to-Customer Close Rate % = Lead Goal
By calculating all three of these metrics, you'll be able to work backwards to determine what your ideal conversion rate should be to meet your revenue goals. For example:
If your website has 10,000 visitors a month...
and 100 of those visitors fill out the contact us form...
and 100 conversions translates to 10 customers a month...
Working backwards, if you wanted 20 customers a month, you know that you would need to generate 200 leads - or a conversion rate of 2%. In order to achieve those leads, you would utilize CRO to improve your website and optimize for those conversions.
Conversion Rate Optimization Strategies
Now that you know what CRO is, it's time to dig into some strategies that you can use on your website.
1. Increase your site speed
A slow site is a massive barrier to conversions and usability. If your site doesn't load quickly, you'll lose visitors before they have the chance to convert. To learn more about site speed, check out our blog: 5 Signs Your Website Isn't Working (And How to Fix It).
2. Have a CTA on every page (that makes sense)
A Call-to-action (CTA) is something that directs users to click or take an action - they're most commonly seen in the form of buttons. You might notice a few CTAs on this blog if you go looking for them. It's a good idea to include at least one CTA on each page - although, use your best judgement if there's a page on your website where this feels inappropriate. Generally speaking, try to have the CTA relevant to the content on that page.
3. Use lead capture forms
Visitors on your website are more likely to convert if they have to do less legwork. Instead of simply including your phone number and address at the top of the page and waiting for them to come to you, give your leads more points to engage with forms on your website. Using a tool like HubSpot or WordPress, you can create forms that live right on your website. This makes it a lot easier for users to engage with you.
4. Offer something enticing
While contact us forms and phone numbers are a necessity, not every lead may be ready to reach out to you directly. This is where inbound marketing can come into play. Inbound marketing starts with valuable content that your target audience wants, instead of just advertising your services. This could be an ebook, quiz, checklist, video, etc. that your visitors can only access if they first fill out a form. You'll likely find that you get more nibbles when you give leads the option for a softer way to reach out, instead of only asking them to talk to you directly.
5. Leverage the power of Growth-Driven Web Design
Growth-Driven Web Design is an approach to web design that focuses on smaller changes executed throughout the year, based on user data. Instead of focusing all your time and energy upfront, you spend less time initially on the site but more time throughout the year updating the site. Since it relies on user feedback, GDD blends nicely into a CRO strategy. You can see how people are currently engaging with your website and update reactively through GDD.
Increasing your overall number of conversions is a challenging process, but one that can be achieved through careful, considerate CRO strategies.
* * *
Get Better Results with Growth-Driven Web Design - Free eBook
Growth-Driven Web Design is not only easier on your team and wallet- continuous updates and improvements to your website will keep your customers coming back for more. This free eBook goes over Growth-Driven Web Design and what you need to know to get started.
Download Our FREE Growth-Driven Web Design eBook
Need a new digital marketing or web design plan? We are a Minneapolis SEO, digital marketing, social media marketing, web design and HubSpot inbound marketing agency. We specialize in inbound marketing and Growth-Driven Design. We're located just outside of Minneapolis. Stop on by and get started - and while you're here, pick up a free honey stick (yes, we love our bee-related theme).